Update: The gross divergence in October data reported below between the various metrics is explained by an error, as reported at the bottom.  The basic premise of the post, that real scientific work should go into challenging these measurement approaches and choosing the best data set, remains.
The October global temperature data highlights for me that it is time for scientists to quit wasting time screwing around with questions of whether global warming will cause more kidney stones, and address an absolutely fundamental question:  Just what is the freaking temperature?
Currently we are approaching the prospect of spending hundreds of billions of dollars, or more, to combat global warming, and we don't even know its magnitude or real trend, because the major temperature indices we possess are giving very different readings.  To oversimplify a bit, there are two competing methodologies that are giving two different answers.  NASA's GISS uses a melding of surface thermometer readings around the world to create a global temperature anomaly.  And the UAH uses satellites to measure temperatures of the lower or near-surface troposhere.  Each thinks it has the better methodology  (with, oddly, NASA fighting against the space technology).  But they are giving us different answers.
For October, the GISS metric is showing the hottest October on record, nearly 0.8C hotter than it was 40 years ago in 1978 (from here).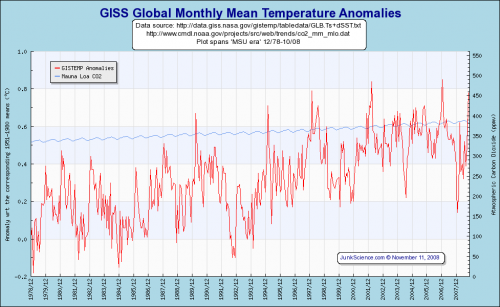 However, the satellites are showing no such thing, showing a much cooler October, and a far smaller warming trend over the last 40 years (from here)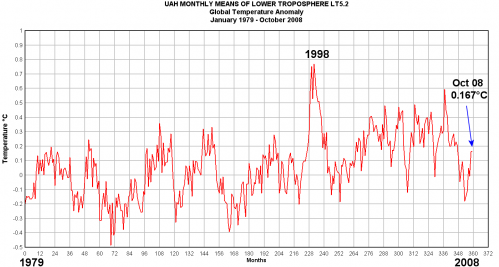 So which is right?  Well, the situation is not helped by the fact that the GISS metric is run by James Hansen, considered by skeptics to be a leading alarmist, and the UAH is run by John Christy, considered by alarmists to be an arch-skeptic.  The media generally uses the GISS data, so expect stories in the next day or so trumpeting "Hottest October Ever," which the Obama administration will wave around as justification for massive economic interventions.  But by satellite it will only be the 10th or so hottest in the last 30, and probably cooler than most other readings this century.
It is really a very frustrating situation.  It is as if two groups in the 17th century had two very different sets of observations of planetary motions that resulted in two different theories of gravity,
Its amazing to me the scientific community doesn't try to take this on.  If the NOAA wanted to do something useful other than just creating disaster pr0n, it could actually have a conference on the topic and even some critical reviews of each approach.  Why not have Christy and Hansen take turns in front of the group and defend their approaches like a doctoral thesis?  Nothing can replace surface temperature measurement before 1978, because we do not have satellite data before then.  But even so, discussion of earlier periods is important given issues with NOAA and GISS manual adjustments to the data.
Though I favor the UAH satellite data (and prefer a UAH – Hadley CRUT3 splice for a longer time history), I'll try to present as neutrally as possible the pros and cons of each approach.
GISS Surface Temperature Record
+  Measures actual surface temperatures
+  Uses technologies that are time-tested and generally well-understood
+  Can provide a 100+ year history
– Subject to surface biases, including urban heat bias.  Arguments rage as to the size and correctability of these biases
– Coverage can range from dense to extremely spotty, with as little as 20KM and as much as 1000KM between measurement sites
– Changing technologies and techniques, both at sea and on land, have introduced step-change biases
– Diversity of locations, management, and technology makes it hard to correct for individual biases
– Manual adjustments to the data to correct errors and biases are often as large or larger than the magnitude of the signal (ie global warming) trying to be measured.  Further, this adjustment process has historically been shrouded in secrecy and not subject to much peer review
– Most daily averages based on average of high and low temperature, not actual integrated average
UAH Satellite Temperature Record
+  Not subject to surface biases or location biases
+  Good global coverage
+  Single technology and measurement point such that discovered biases or errors are easier to correct
–  Only 40 years of history
–  Still building confidence in the technology
–  Coverage of individual locations not continuous – dependent on satellite passes.
–  Not measuring the actual surface temperature, but the lower troposphere (debate continues as to whether these are effectively the same).
–  Single point of failure – system not robust to the failure of a single instrument.
–  I am not sure how much the UAH algorithms have been reviewed and tested by outsiders.
Update: Well, this is interesting.  Apparently the reason October was so different between the two metrics was because one of the two sources made a mistake that substantially altered reported temperatures.  And the loser is … the GISS, which apparently used the wrong Russian data for October, artificially inflating temperatures.  So long "hottest October ever," though don't hold your breath for the front-page media retraction.