Gavin Schmidt has absolutely no evidence for this:  (via Tom Nelson)
Gavin [Schmidt],

In your opinion, what percentage of global warming is due to human causes vs. natural causes?

[Response: Over the last 40 or so years, natural drivers would have caused cooling, and so the warming there has been (and some) is caused by a combination of human drivers and some degree of internal variability. I would judge the maximum amplitude of the internal variability to be roughly 0.1 deg C over that time period, and so given the warming of ~0.5 deg C, I'd say somewhere between 80 to 120% of the warming. Slightly larger range if you want a large range for the internal stuff. – gavin]
This is a complete bluff.  There is no way he or anyone else knows this.  I could reverse his numbers and say 0-20% for CO2 and have just as much justification (actually more, see below).  We have devised no good way to parse the temperature changes into any reliable division between various drivers given the complexity of climate.  The only way climate scientists claim to do it is with their highly flawed temperature models, which is a fit of hubris that is unfathomable.
But, beyond the fact that he simply can't know the answer, his guess here is just awful.  It does not reality check at all.   Here are a few pointers:
1.  Over the last 40 years, or at least over the portion from 1975-1995 when we saw most of the temperature increase, the sun was at its most active this century, as measured by sunspot numbers.  The PDO, which has close links to temperature, was in its warm cycle.  We likely were continuing to see long-term cyclical recovery from the little ice age.  And anthropogenic land use changes were increasing both urban and rural temperatures.  But he claims that the net effect of non-CO2 factors would have been negative?  This is roughly equivalent to Obama's jobs claims numbers, saying that he saved jobs that would otherwise have been lost.  It's appeal is that it makes a useful political point while being impossible to prove.
2.  Hansen is basically repeating the IPCC position that there could be no possible natural explanation for the the 0.2C per decade temperature increases from 1975-2000  — ie that such a pace of temperature increase has to be due to CO2 alone (80-120% in my mind equates to CO2 alone).  But world temperatures increased from 1910 to 1940 by 0.2C per decade, in a period almost certainly only minimally influenced by CO2  (see below).  So natural effects can cause warming in the 1930's but not in the 1980's because, why?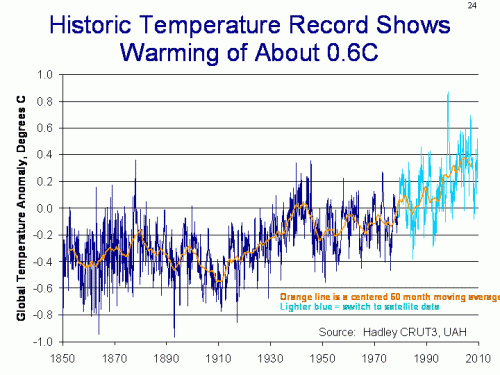 I often use this chart with audiences: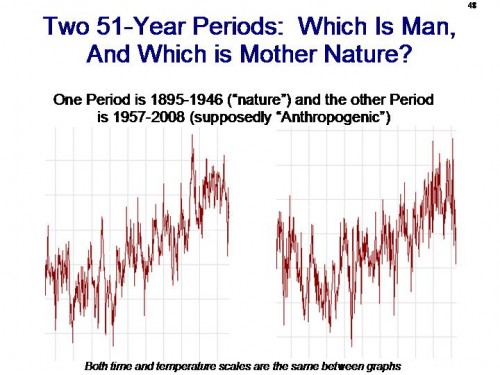 3.  I am positive that Hansen would argue that natural effects are currently (and temporarily) canceling out some of the warming.  He would say this as a way to deflect criticism that the world has stopped warming over the last decade (something the CRU emails admit they don't understand, though they won't admit this publicly**).  But Hansen et al. think we should be seeing 0.2C a decade or more in CO2 warming that is apparently being overcome by natural effects.  So natural effects have enough variability to cancel out 0.2C of warming but not enough to cause 0.2C of warming?  Huh?
This is sort of a special theme this week on this blog, as the topic keeps coming up.  In short, climate scientists need the climate to be alternately sensitive and insensitive, unstable and stable, driven by nature and not driven by nature, all depending on the period they are trying to explain.   All these wildly contradictory assumptions are required to try to keep the hypothesis of very high sensitivities to CO2 alive.
Here, by the way, was my attempt to explain the last 100 years of temperature with a cyclical wave plus a small linear trend: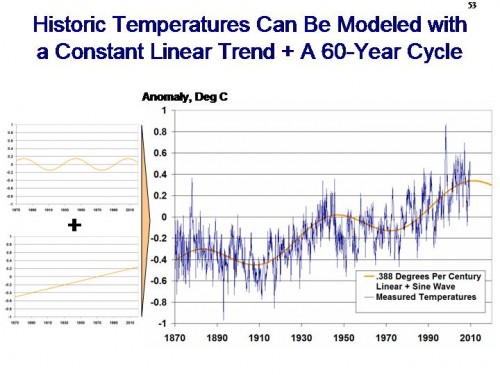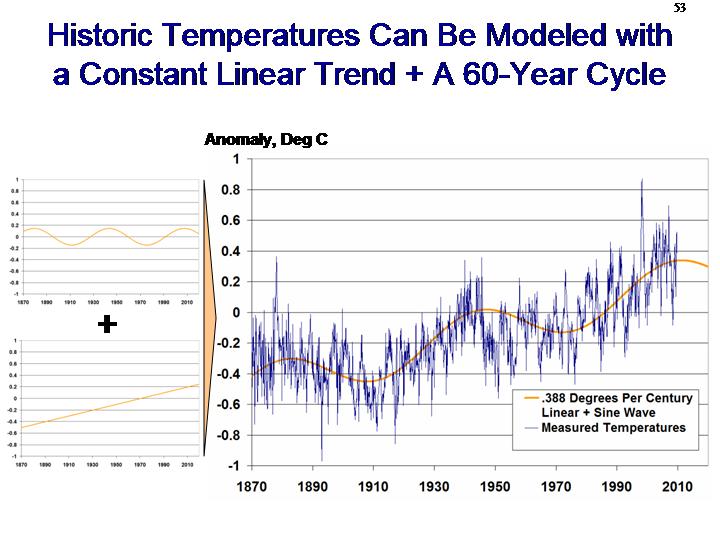 Not bad, huh?  Here is a similar analysis using a linear trend plus the PDO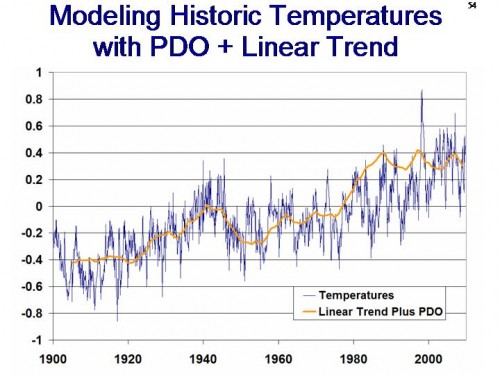 My answer seems at least as plausible as Gavin's.  Here is where I did this analysis in more depth. If I really had an official climate scientist decoder ring, I would blame the gap between measured temperatures and my simplified model in orange during the 1980's on aerosols.  I don't know how much if any they affect the climate, but neither do climate scientists and that does not stop them from using it as the universal model plug to improve historic correlations.
By the way, for reference, here is the sunspot cycle: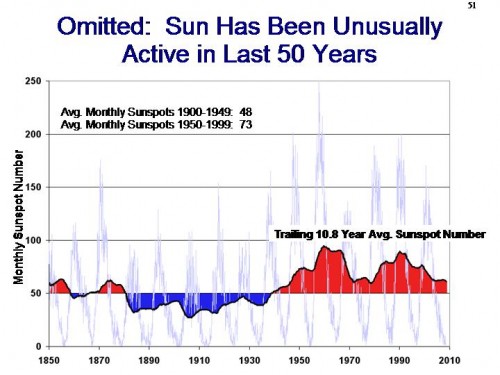 Here is the world temperature graph overlayed with the PDO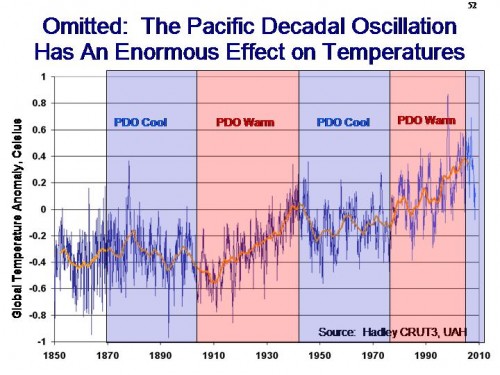 And finally here is some evidence (from ice core analysis) that we may just still be recovering from a period that could well have been the coldest period in the last 5000 years  (notice the regular millennial trend as well).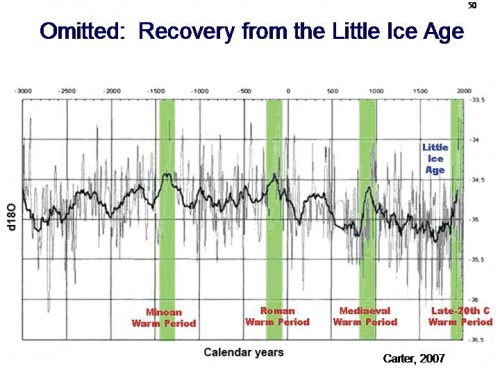 But CO2 explains 80-120% of the warming?  The time is hopefully coming when smart people stop taking such statements on faith and demand proof.
**Postscript-  Last year I attended a fantastic series of lectures and discussions at ASU called the Origins Conference.  One thing that I observed there was the scientists, in talking about things like the origins of the universe, were quick to admit where they didn't understand things — in fact they sort of were gleeful about it, like something that they didn't understand was a new toy under the Christmas tree.  And for real scientists, I suppose it is.  This is not at all what we see in the CRU emails.