I have always been fascinated with the chart below, and the apparent strong correlation of global temperature changes and ocean cycles — particularly considering that ocean cycles are not included in climate cycles but never-the-less climate scientists act as if these models are accurate.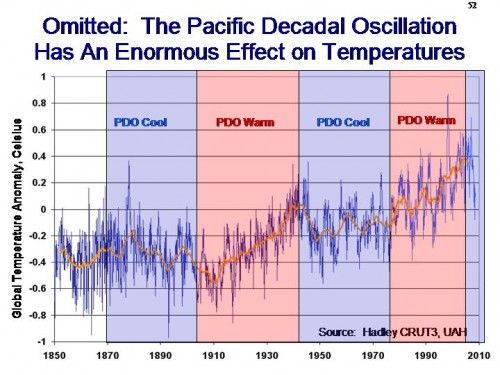 So, just for the fun of it, I tried to see if I could fit a linear trend plus a sine wave to historic temperature (similar to Klyashtorin and Lyubushin, 2003).  This is what we might see if temperature were a function of a constant recovery from the little ice age plus ocean cycles.  It is not the fit we would expect from an anthropogenic-driven model.  This is what I got  (temperature history a blend of Hadley CRUT3 and UAH satellite as shown here):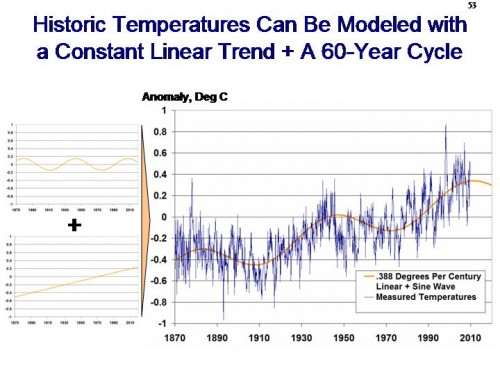 I didn't spend a lot of time on it, and this is what I got — about 0.04C per decade linear trend plus a cycle.  This is one of those things that I can't figure out if it is insightful or meaningless, but I thought I would share it with you this holiday week, since things are slow around the office here.
As a final set, I tried it again with a linear trend plus the PDO.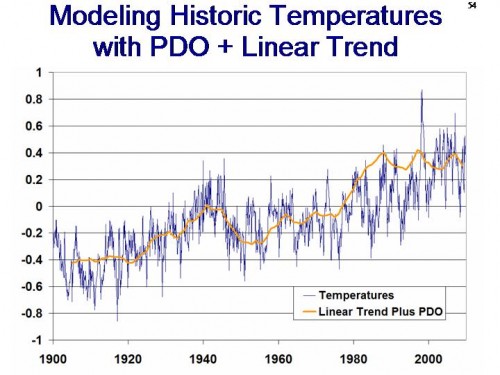 Update: The formula for the first chart is -0.55+0.005*(year-1861)+0.145*cos((2*pi*(year-1861)/64.1453)-1.8)
The formula for the second chart is -0.05+0.008*(year-1900)+0.2*PDO