This screen shot was sent by a reader, who titled the email "you have hit the big time."  I suppose I have, or at least I have really ticked off James Hansen and Gavin Schmidt at NASA.  It appears that this site has been added to the list of sites blocked by the NASA servers as ostensiblybeing sexually explicit.  Well, I guess we have caught the GISS with their pants down a few times….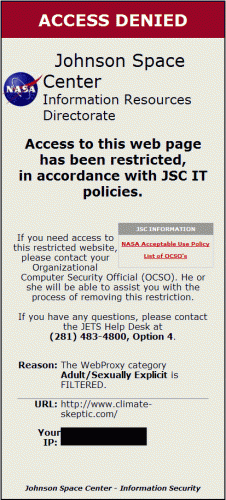 As usual, you may click on the image for the full-size version.  Thanks to a reader, who asked only that I hide his/her IP address.
Update: From the archives:
The top climate scientist at NASA says the Bush administration has tried to stop him from speaking out since he gave a lecture last month calling for prompt reductions in emissions of greenhouse gases linked to global warming.

The scientist, James E. Hansen, longtime director of the agency's Goddard Institute for Space Studies, said in an interview that officials at NASA headquarters had ordered the public affairs staff to review his coming lectures, papers, postings on the Goddard Web site and requests for interviews from journalists.

Dr. Hansen said he would ignore the restrictions. "They feel their job is to be this censor of information going out to the public," he said.
OK, I kindof mostly don't think there is anything sinister here.  Coyote's Law tells us that this is much more likely to be incompetence rather than evil intent.  But it would be interesting to see how Dr. Hansen would react if, say, the RealClimate site had been similarly filtered.  Anyone want to bet he would have thrown a conspiracy-laden hissy fit?
Update #2: Thanks for all those who pointed out that http://climate-skeptic.com was going to a park page with a bunch of ads.  That is fixed now.  Not sure if that was the cause or not.