It is often said by warming alarmists that a) global warming will increase both extremes of droughts and floods and b) that we already see these conditions accelerating (ie with California droughts and this year's midwestern floods). The recent NOAA/NASA draft CCSP climate change report I commented on last week said
Temperature and precipitation have increased over recent decades, along with some extreme weather events such as heat waves and heavy downpours…

Widespread increases in heavy precipitation events have occurred, even in places where total amounts have decreased. These changes are associated with the fact that warmer air holds more water vapor evaporating from the world's oceans and land surface. Increases in drought are not uniform, and some regions have seen increases in the occurrences of both droughts and floods
The Antiplanner, in an article on firefighting, shares this data at the National Climate Data Center that I had never seen before. It is the monthly estimate of the percent of US land area subject to extremes of wet or dry weather. First, the dry weather: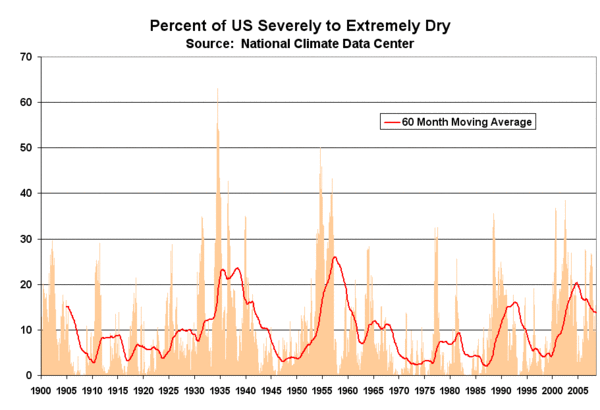 Then the wet weather: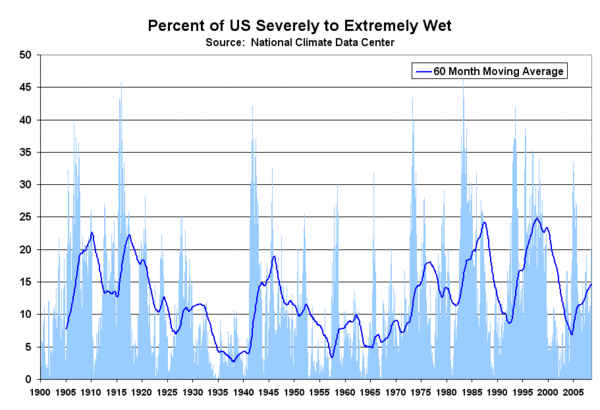 There is no trend here, and certainly no acceleration** of a trend, merely what is obviously a cyclical phenomenon.
** I am constantly amazed at the ability of alarmists to dedice the second derivitive of natural phenomenon (eg an acceleration in a rate of change) from single data points (e.g. 2008 flooding in the Midwest).
Update: Since the claim is an increase in total extreme weather, to be fair I also looked at the history of the two data sets above combined: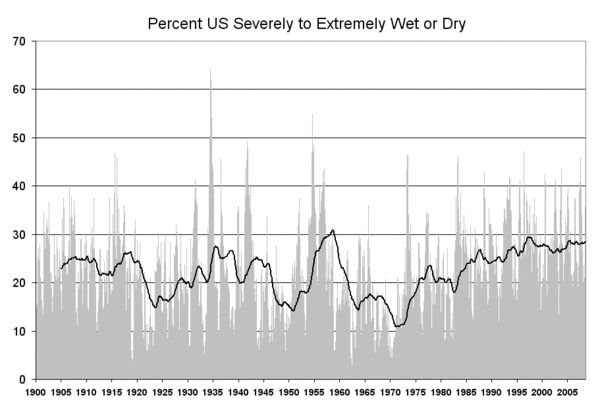 Thre is a slight trend here, on the order of about a 2-3 percentage point increase per century. I am fairly certain this does not clear the margin of error.