As I am sure most of my readers know, most climate models do not reach catastrophic temperature forecasts from CO2 effects alone. In these models, small to moderate warming by CO2 is multiplied many fold by assumed positive feedbacks in the climate system. I have done some simple historical analyses that have demonstrated that this assumption of massive positive feedback is not supported historically.
However, many climate alarmists feel they have good evidence of strong positive feedbacks in the climate system. Roy Spencer has done a good job of simplifying his recent paper on feedback analysis in this article. He looks at satellite data from past years and concludes:
We see that the data do tend to cluster along an imaginary line, and the slope of that line is 4.5 Watts per sq. meter per deg. C. This would indicate low climate sensitivity, and if applied to future global warming would suggest only about 0.8 deg. C of warming by 2100.
But he then addresses the more interesting issue of reconciling this finding with other past studies of the same phenomenon:
Now, it would be nice if we could just stop here and say we have evidence of an insensitive climate system, and proclaim that global warming won't be a problem. Unfortunately, for reasons that still remain a little obscure, the experts who do this kind of work claim we must average the data on three-monthly time scales or longer in order to get a meaningful climate sensitivity for the long time scales involved in global warming (many years).
One should always before of a result where the raw data yield one result but averaged data yields another. Data averaging tends to do funny things to mask physical processes, and this appears to be no exception here. He creates a model of the process, and finds that such averaging always biases the feedback result higher:
Significantly, note that the feedback parameter line fitted to these data is virtually horizontal, with almost zero slope. Strictly speaking that would represent a borderline-unstable climate system. The same results were found no matter how deep the model ocean was assumed to be, or how frequently or infrequently the radiative forcing (cloud changes) occurred, or what the specified feedback was. What this means is that cloud variability in the climate system always causes temperature changes that "look like" a sensitive climate system, no matter what the true sensitivity is.
In short, each time he plugged low feedback into the model, the data that emerged mimicked that of a high feedback system, with patterns very similar to what researchers have seen in past feedback studies of actual temperature data.
Interestingly, the pattern is sort of a circular wandering pattern, shown below: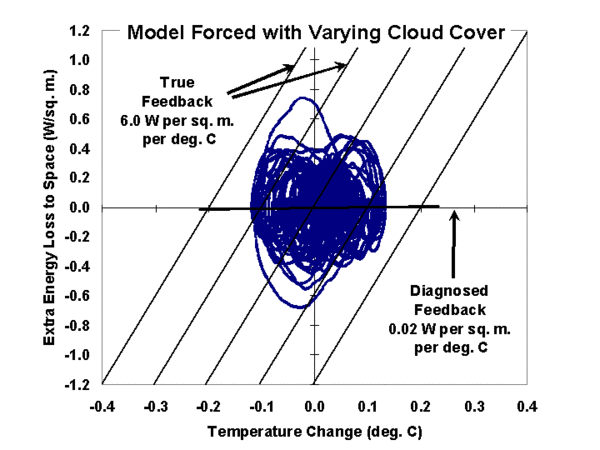 I will have to think about it a while — I am not sure if it is a real or spurious comparison, but the path followed by his model system is surprisingly close to that in the negative feedback system I modeled in my climate video, that of a ball in the bottom of a bowl given a nudge (about 3 minutes in).