As we know, alarmists have adopted the term "climate change" over "global warming," in large part since the climate is always changing for all manner of reasons, one can always find, well, climate change. This allows alarmists in the media to point to any bit of weather in the tails for the normal distribution and blame these events on man-made climate change.
But here is a reminder for those who may be uncomfortable with their own grasp of climate science (don't feel bad, the media goes out of its way not to explain things very well). There is no mechanism that has been proven, or even credibly identified, for increasing levels of CO2 in the atmosphere to "change the climate" or cause extreme weather without first causing warming. In other words, the only possible causality is CO2 –> warming –> changing weather patterns. If we don't see the warming, we don't see the changing weather patterns.
I feel the need to say this, because alarmists (including Gore) have adopted the tactic of saying that climate change is accelerating, or that they see the signs of accelerating climate change everywhere. But for the last 10 years, we have not seen any warming.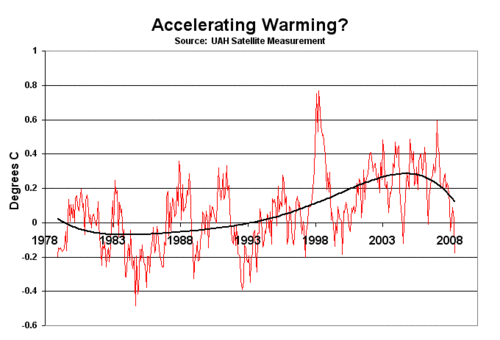 So if climate change is in fact somehow "accelerating," then it cannot possibly be due to CO2. I believe that they are trying to create the impression that somehow CO2 is directly causing extreme weather, which it does not, under any mechanism anyone has ever suggested.