Way back, I had a number of posts on surface temperature adjustments that seemed to artificially add warming to the historical record, here for example.  Looking at the adjustments, it seemed odd that they implied improving station location quality and reduced warming bias in the measurements, despite Anthony Watts work calling both assumptions into question.
More recently, Steve Goddard has been on a roll, looking at GISS adjustments in the US.   He's found that the essentially flat raw temperature data: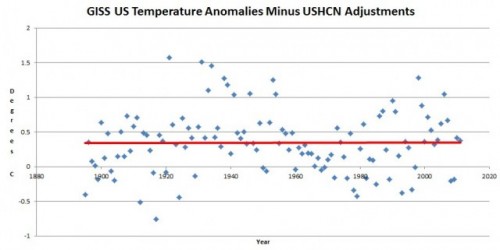 Has been adjusted upwards substantially to show a warming trend that is not in the raw data.  The interesting part is that most of this adjustment has been added in the last few years.  As recently as 1999, the GISS's own numbers looked close to those above.   Goddard backs into the adjustments the GISS has made in the last few years: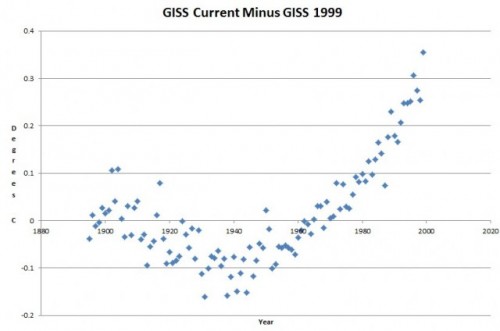 So, supposedly, some phenomenon has that shape.  After all, surely the addition of this little hockey stick shaped data curve to the raw data is not arbitrary simply to get the answer they want, the additions have to represent the results of some heretofore unaccounted-for bias in the raw data.  So what is it?  What bias or changing bias has this shape?