Greg Mankiw on scoring the federal stimulus package:
the CEA took a conventional Keynesian-style macroeconomic model and used those set of equations to estimate the effect the stimulus should have had.  Essentially, the model offers an estimate of the policy's effect, conditional on the model being a correct description of the world.  But notice that this exercise is not really a measurement based on what actually occurred.  Rather, the exercise is premised on the belief that the model is true, so no matter how bad the economy got, the inference is that it would have been even worse without the stimulus.  Why?  Because that is what the model says.  The validity of the model itself is never questioned.
Does this sound like climate science or what?  The same models that are used to predict future temperature increases are used to decide how much of past warming was dues to Co2 and how much was due to natural effects.  Here is the retrospective IPCC chart which assigns more than 100% of post-1950 warming to CO2 (since the blue "natural forcings" is shown to go down, see more here)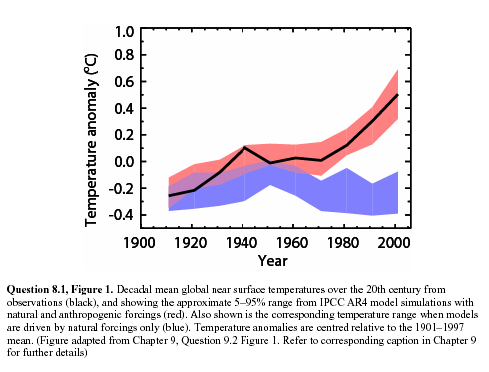 Here is the stimulus version, showing flat employment, but positing that the stimulus created jobs because employment "would have gone down without it" (sound familiar?)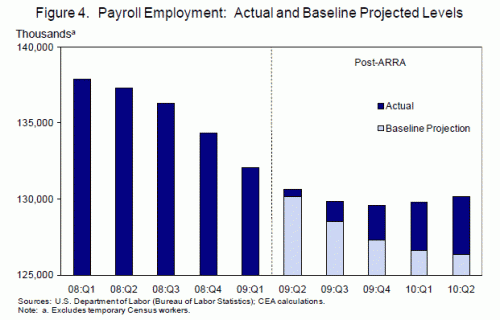 This kind of retrospective look at causality has the look of science but in fact is nothing of the sort, and can be not much more than guesses laundered to look like facts.
But this may in fact be worse than guessing.  In both cases, these graphs are drawn by folks who think they know the answer (in the first case that CO2 caused all warming, in the second that the stimulus created millions of jobs).  Since in both cases the lower "without" case (either without CO2 or without stimulus) is horrendously, almost impossible to derive and totally impossible to measure, there is good reason to believe it is merely a plug, fixed in value to get the answer they want.  But if I plugged it just on the back of an envelope, everyone would call me out for it, so I plug it in an arcane model where numerous inputs can be tweaked to get different results, to avoid this kind of unwanted scrutiny.
Readers of climate sites will also recognize this criticism of Obama's self-serving stimulus analysis
Moreover, the fact that other organizations simulating similar models come to similar conclusions is no evidence about the validity of the model's simulations.  It only tells you the CEA staff did not commit egregious programming errors when running their computer simulations.
Sounds like the logic behind the hockey stick spaghetti graphs, no?