One of my pet peeves in the climate debate is how some folks will immediately describe differences in opinion or interpretation to the fact that someone is lying.  I wanted to show an example of how reasonable people can disagree from the same data set.  This is from a paper written by Vincent Gray (spsl3) in response to an analysis of South Seas sea levels in a series of SEAFRAME reports here.  Mr. Gray believes the authors of the reports have exaggerated sea level rise, and I am sympathetic to his analysis, but I really wanted to show how multiple people can draw different conclusions from the same data.
To begin, lets take the sea level data for Tuvalu from here.  We will graph the raw data, and use Excel to plot a least squares linear fit (the scale on the left is in meters)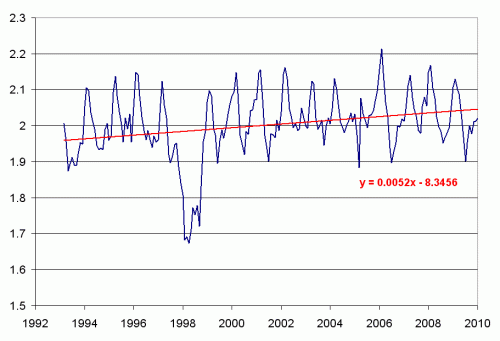 The trend we get is about 5.2mm per year of sea level rise  — the actual study Gray is commenting on shows 6mm per year, but its data only went through 2008.
The most noticeable feature on this chart is the depression in 1998, which Gray attributes to the super strong el Nino of that year.  So, I first took this anomalous data out by pasting in data for that period from a previous period (with the months synchronized)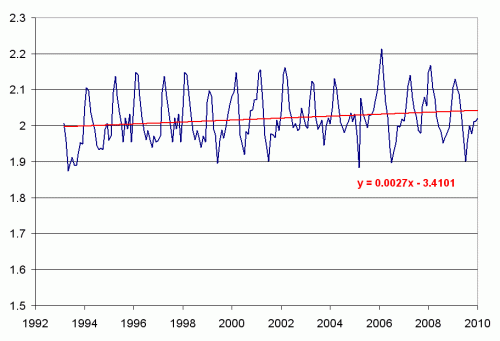 OK, this cut the sea level trend in half, to 2.7mm a year.  Of course, this kind of data fill-in leaves much to be desired.  It was simply an experiment on my part.   I think a better test is to look at the trend since this anomalous event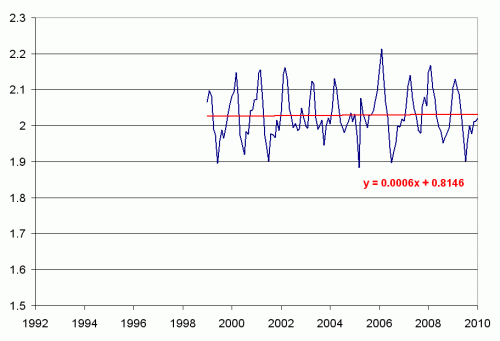 The trend since the 1998 el Nino has been 0.6mm a year.
So, from the same data, we can reach trends that are an order of magnitude different, from 0.6mm to 5.4mm.  I think the original authors of the study were remiss in not doing more sensitivity analysis, and it would be an interesting test to see if presented with such an anomaly that reduced rather than increased the trend, whether they would have handled it the same way.
Never-the-less, I hope you can see why even reasonable people can draw different conclusions from the same data set.  Thanks to a reader for sending me the original link.