I am looking at some back and forth in this Flowing Data post.
Apparently an Australian Legislator named Stephen Fielding posted this chart and asked, "Is it the case that CO2 increased by 5% since 1998 whilst global temperature cooled over the same period (see Fig. 1)?  If so, why did the temperature not increase; and how can human emissions be to blame for dangerous levels of warming?"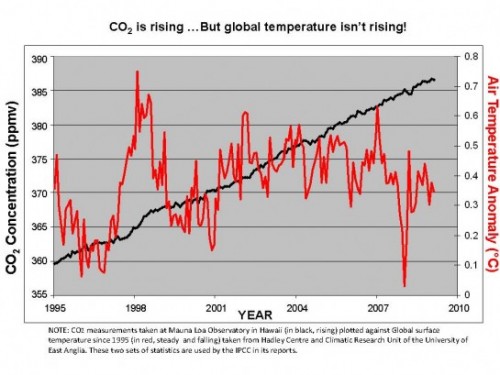 Certainly this could sustain some interesting debate.  Climate is complex, so their might be countervailing effects to CO2, but it also should be noted that none of the models really predicted this flatness in temperatures, so it certainly could be described as "unexpected" at least among the alarmist community.
Instead, the answer that came back from Stephen Few was this (as reported by Flowing Data, I cannot find this on Few's site):
This is a case of someone who listens only to what he wants to hear (the arguments of a few fringe organizations with agendas) and either ignores or is incapable of understanding the overwhelming weight of scientific evidence. He selected a tiny piece of data (a short period of time, with only one of many measures of temperature), misinterpreted it, and ignored the vast collection of data that contradicts his position. This fellow is either incredibly stupid or a very bad man.
Every alarmist from Al Gore to James Hansen has used this same chart in their every presentation – showing global temperatures since 1950  (or really since 1980) going up in lockstep with Co2.  This is the alarmists #1 chart.  All Fielding has done is shown data after 1998, something alarmists tend to be reluctant to do.  Sure it's a short time period, but nothing in any alarmist prediction or IPCC report hinted that there was any possibility that for even so short a time as 15 years warming might cease  (at least not in the last IPCC report, which I have read nearly every page of).  So, by using the alarmists' own chart and questioning a temperature trend that went unpredicted, Fielding is "either incredibly stupid or a very bad man."  Again, the alarmist modus operandi – it is much better to smear the person in ad hominem attacks than deal with his argument.
Shouldn't there be symmetry here?  If it is OK for every alarmist on the planet to show 1980-1995 temperature growing in lockstep with CO2 as "proof" of a relationship, isn't it equally OK to show 1995-2010 temperature not growing in lockstep with CO2 to question the relationship?  Why is one ok but the other incredibly stupid and/or mean-spirited?   I mean graphs like this were frequent five years ago, though they have dried up recently: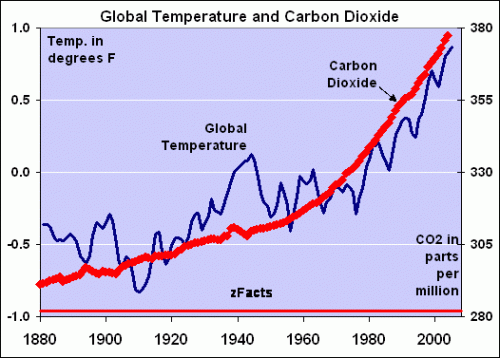 For extra credit, figure out how they got most of the early 2000's to be warmer than 1998 in this chart, since I can find no major temperature metric that matches this.  I suspect some endpoint smoothing games here.
I won't get into arguing the "overwhelming weight of scientific evidence" statement, as I find arguments over counting scientific heads or papers to be  useless in the extreme.  But I will say that as a boy when I learned about the scientific method, there was a key step where one's understanding of a natural phenomenon is converted into predicted behaviors, and then those predictions are tested against reality.  All Fielding is doing is testing the predictions, and finding them to be missing the mark.  Sure, one can argue that the testing period has not been long enough, so we will keep testing, but what Fielding is trying to do here, however imperfectly, is perfectly compatible with the scientific method.
I must say I am a bit confused about those "many other measures of temperature."  Is Mr. Few suggesting that the chart would have different results in Fahrenheit?  OK, I am kidding of course.  What I am sure he means is that there are groups other than the Hadley Center that produce temperature records for the globe  (though in Mr. Fielding's defense the Hadley Center is a perfectly acceptable source and the preferred source of much of the IPCC report).  To my knowledge, there are four major metrics (Hadley, GISS, UAH, RSS).  Of these four, at least three (I am not sure about the GISS) would show the same results.  I think the "overwhelming weight" of temperature metrics makes the same point as Mr. Fielding's chart.
In the rest of his language, Few is pretty sloppy for someone who wants to criticize someone for sloppiness.  He says that Fielding "misinterpreted" the temperature data.  How?  Seems straight forward to me.  He also says that there is a "vast collection of data that contradicts his position."  What position is that?  If his position is merely that Co2 has increased for 15 years and temperatures have not, well, there really is NOT a vast collection of data that contradicts that.  There may be a lot of people who have published reasons whythis set of facts does not invalidate AGW, but the facts are still the same.
By the way, I get exhausted by the accusation that skeptics are somehow simplistic and can't understand complex systems.    I feel like my understanding is pretty nuanced. By the way, its interesting how the sides have somewhat reversed here.  When temperature was going up steadily, it was alarmists saying that things were simple and skeptics saying that climate was complex and you couldn't necessarily make the 1:1 correlation between CO2 and temperature increases.  Now that temperature has flat lined for a while, it is alarmists screaming that skeptics are underestimating the complexity.  I tend to agree — climate is indeed really really complex, though I think if one accepts this complexity it is hard to square with the whole "settled science" thing.  Really, we have settled the science in less than 20 years on perhaps the most complex system we have ever tried to understand?
The same Flowing Data post references this post from Graham Dawson.  Most of Dawson's "answers" to Fieldings questions are similar to Few's, but I wanted to touch on one or two other things.
First, I like how he calls findings from the recent climate synthesis report the "government answer" as if this makes it somehow beyond dispute.  But I digress.
The surface air temperature is just one component in the climate system (ocean, atmosphere, cryosphere). There has been no material trend in surface air temperature during the last 10 years when taken in isolation, but 13 of the 14 warmest years on record have occurred since 1995. Also global heat content of  the ocean (which constitutes 85% of the total warming) has continued to rise strongly in this period, and ongoing warming of the climate system as a whole is supported by a very wide range of observations, as reported in the peer-reviewed scientific literature.
This is the kind of blithe answer that is full of inaccuracies everyone needs to be careful about.  The first sentence is true, and the second is probably close to the mark, though with a bit more uncertainty than he implies.  He is also correct that global heat content of the ocean is a huge part of warming or the lack thereof, but his next statement is not entirely correct.  Ocean heat content as measured by the new ARGO system since 2003 has been flat to down.  Longer term measures are up, but most of the warming comes at the point the old metrics were spliced to the ARGO data, a real red flag to any serious data analyst.  The cryospehere is important as well, but most metrics show little change in total sea ice area, with losses in the NH offset by gains in the SH.
While the Earth's temperature has been warmer in the geological past than it is today, the magnitude and rate of change is unusual in a geological context. Also the current warming is unusual as past changes have been triggered by natural forcings whereas there are no known natural climate forcings, such as changes in solar irradiance, that can explain the current observed warming of the climate system. It can only be explained by the increase in greenhouse gases due to human activities.
No one on Earth has any idea if the first sentence is true — this is pure supposition on the author's part, stated as a fact.  We are talking about temperature changes today over a fifty year (or shorter) period, and we have absolutely no way to look at changes in the "geological past" on this fine of a timescale.  I am reminded of the old ice core chart that was supposedly the smoking gun between CO2 and temperature, only to find later as we improved the time resolution that temperature increases came before Co2 increases.
I won't make too much of my usual argument on the sun, except to say that the Sun has been substantially more active during the warming period of 1950-2000 than it has been in other times.  What I want to point out, though, is the core foundation of the alarmist argument, one that I have pointed out before.  It boils down to:  Past warming must be due to man because we can't think of what else it could be.   This is amazing hubris, representing a total unwillingness to admit what we do and don't understand.  Its almost like the ancient Greeks, attributing what they didn't understand in the cosmos to the hijinx of various gods.
It is not the case that all GCM computer models projected a steady increase in temperature for the period 1990-2008.  Air temperatures are affected by natural variability.  Global Climate Models show this variability in the long term but are not able to predict exactly when such variations will happen. GCMs can and do simulate decade-long periods of no warming, or even slight cooling, embedded in longer-term warming trends.
But none showed zero warming, or anything even close.