The other underlying assumption in the GCCI report is that without man, climate would be dead stable.  Year in and year out, decade after decade, every location would get the same rain it got the year before and the decade before, the same number of storms, the same number of tornadoes, the same start date for Spring, etc.
Now, the authors might object to that and say, "we don't believe that."  But in fact they must, since in the report, any US climate trend in the last 20 years (more rain, less rain, more storms, fewer storms, more snow, less snow, etc) is all blamed on man.   Why else discuss a given trend in climate in a report on man-made climate change except to create the impression that each and every trend in climate is due to man, and can therefore be extrapolated a hundred years in to the future?
I am going to take on many of these charts in this series, but here is an example from page 30: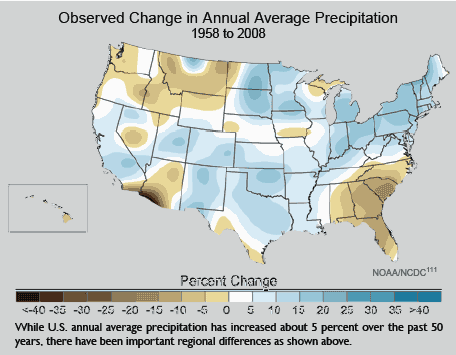 So what?   Do you really think there is a single 50-year period in the history of North America where you wouldn't see this kind of effect?  Where, sans man, the chart would be all white with no changes?  And even trying to pull regional conclusions out of this is almost impossible — for example, the brown in the Southeast is heavily driven by the 2008 endpoint with a big drought.  Shift the period by even a few years and the chart has the same mixture of blue and brown, but distributed differently.
Of course,this assumption of underlying stability is absurd.  History is full of short, medium, and long-term climate cycles.  An honest scientific discussion would look at the degree of variation over time, say hundreds or thousands of years, and then put recent variations in this context.  Are recent changes unprecedented, or not?  Well, we'll never know from this report.