In this post I want to address a minor point on chartsmanship.  Everyone plays this game with scaling and other factors to try to make his or her point more effective, so I don't want to make too big of a deal about it.   But at some point the effort becomes so absurd it simply begs to be highlighted.
Page 13 of the GCCI report has this chart I have already seen circulating around the alarmist side of the web: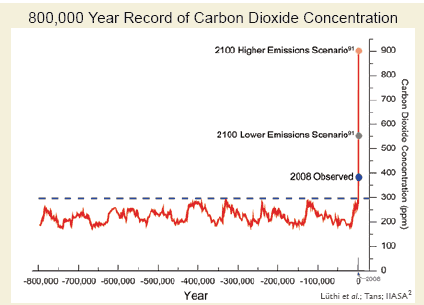 There are two problems here.
One, the compression of the X axis puts the lower and upper scenario lines right on top of each other.  This really causes the higher scenario  (which, at 900ppm, really represents a number higher than we are likely to see even in a do-nothing case) to visually dominate.
The other issue is that the Y-axis covers a very, very small range, such that small changes are magnified visually.  The scale runs from 0% of the atmosphere up to 0.09% of the atmosphere.  If one were to run the scale to cover a more reasonable range, he would get this  (with orange being the high emissions case and blue being the lower case):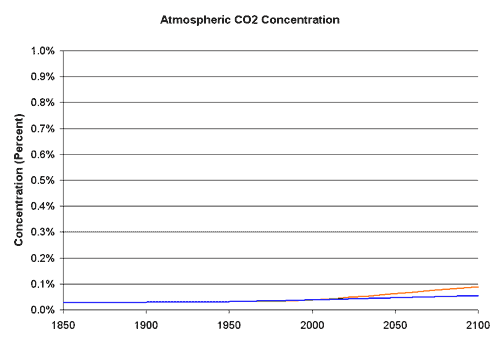 Even this caps out at just 1% of the atmosphere.  If we were to look at the total composition of the atmosphere, we would get this: