In the last post, I discussed forcing observations to fit the theory.  Generally, this takes the form either of ignoring observations or adding "adjustment" factors to the data.  But here is an even more extreme example from page 25: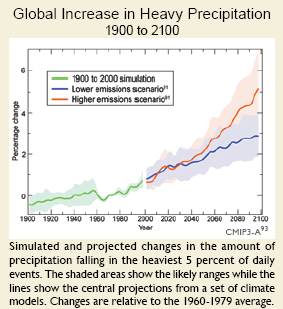 A quick glance at this chart, and what do we see?  A line historically rising surprisingly in parallel with global temperature history, and then increasing in the future.
But let's look at that chart legend carefully.  The green "historic" data is actually nothing of the sort – it is simulation!  The authors have created their own history.  This entire chart is the output of some computer model programmed to deliver the result that temperature drives heavy precipitation, and so it does.