I am late on this, so you probably have seen it, but the EPA was apparently working hard to make sure that the settled science remained settled, but shutting up anyone who dissented from its conclusions.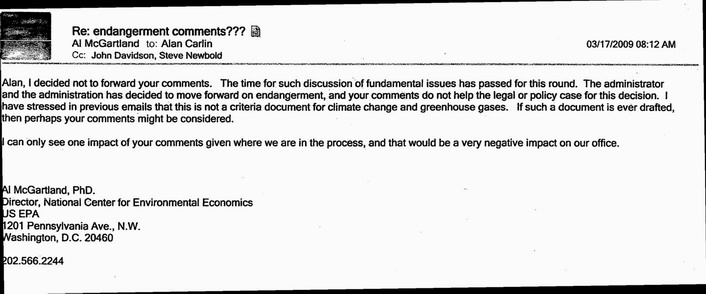 From Odd Citizen.  More at Watts Up With That.
Though less subtle than I would have expected, this should come as no surprise to readers of my series on the recent government climate report.  All even-handed discussion or inclusion of data that might muddy the core message have been purged from a document that is far more like an advocacy group press release than a scientific document.
Update: More here.
Update #2: I understand those who are skeptical of this, and feel this may have been some kind of entirely justified rebuff.  I have folks all the time sending me emails begging me to post their articles as guest authors on this blog and I say no to them all, and there is no scandal to that.  Thomas Fuller, and environmental writer for the San Francisco Examiner, was skeptical at first as well.  His story here.