In particular, a few computers at NASA's Goddard Institute seem to be having a disproportionate effect on global warming.  Anthony Watt takes a cut at an analysis I have tried myself several times, comparing raw USHCN temperature data to the final adjusted values delivered from that data by the NASA computers.  My attempt at this compared the USHCN adjusted to raw for the entire US: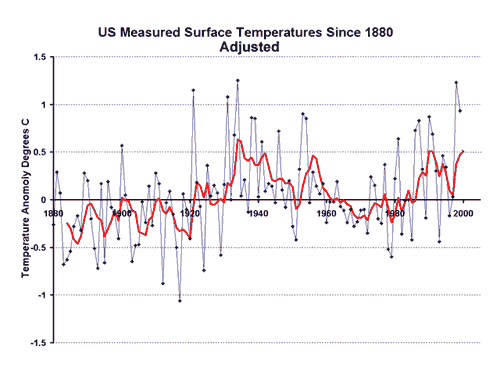 Anthony Watt does this analysis from USHCN raw all the way through to the GISS adjusted number  (the USHCN adjusts the number, and then the GISS adds their own adjustments on top of these adjustments).  The result:  100%+ of the 20th century global warming signal comes from the adjustments.  [Update: I was not very clear on this — this is merely an example for one single site — it is not for the USHCN or GISS index as a whole.  This is merely an example of the low signal to noise ratio in much of the surface temperature record]  There is actually a cooling signal in the raw data: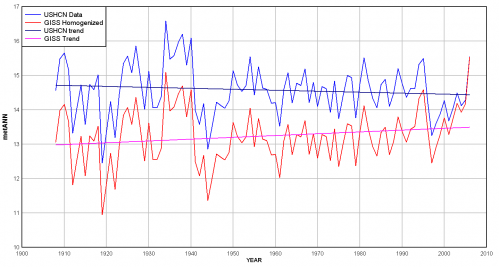 Now, I really, really don't want to be misinterpreted on this, so a few notes are necessary:
Many of the adjustments are quite necessary, such as time of observation adjustments, adjustments for changing equipment, and adjustments for changing site locations and/or urbanization.  However, all of these adjustments are educated guesses.  Some, like the time of observation adjustment, probably are decent guesses.  Some, like site location adjustments, are terrible (as demonstrated at surfacestations.org).The point is that finding a temperature change signal over time with current technologies is a measurement subject to a lot of noise.  We are looking for a signal on the order of magnitude of 0.5C where adjustments to individual raw instrument values might be 2-3C.  It is a very low signal-noise environment, and one that is inherently subject to biases  (researches who expect to find a lot of warming will, not surprisingly, adjust a lot of measurements higher).
Warming has occurred in the 20th century.  The exact number is unclear, but we have much better data via satellites now that have shown a warming trend since 1979, though that trend is lower than the one that results from surface temperature measurements with all these discretionary adjustments.