The quote in the title comes from Obama's nominee to become energy secretary, Steven Chu.  Specifically,
Chu's views on climate change would be among the most forceful ever held by a cabinet member. In an interview with The Post last year, he said that the cost of electricity was "anomalously low" in the United States, that a cap-and-trade approach to limiting greenhouse gases "is an absolutely non-partisan issue," and that scientists had come to "realize that the climate is much more sensitive than we thought."
I will leave aside of why hard scientists typically make bad government officials (short answer:  they have a tendency towards hubris in their belief in a technocrats ability to optimize complex systems.  If one thinks they can assign a 95% probability that a specific hurricane is due to man-made CO2, against the backdrop of the unimaginable chaos of the Earth's climate, then they will often have similar overconfidence in regulating the economy and/or individual behavior).
However, I want to briefly touch on his "more sensitive" comment.
Using assumptions from the last IPCC report, we can disaggregate climate forecasts into two components:  the amount of warming from CO2 alone, and the multiplication of this warming by feedbacks in the climate.  As I have pointed out before, even by the IPCC's assumptions, most of the warming comes not from CO2 alone, but from assumed quite large positive feedbacks.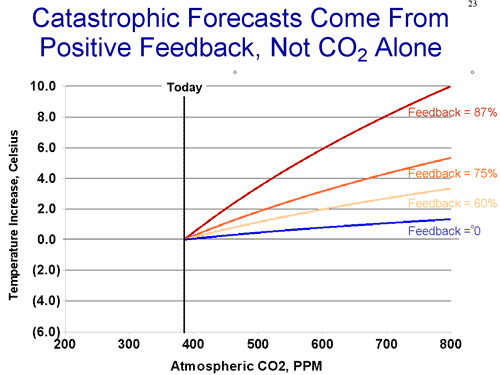 This is based on the formula used by the IPCC (which may or may not be exaggerated)
∆T = F(C2) – F(C1) Where F(c) = Ln(1+1.2c+0.005c2+0.0000014c3)
Plotting this formula, we get the blue no-feedback line above (which leads to about a degree of warming over the next century).  We then apply the standard feedback formula of Multiplier = 1/(1-feedback%)  to get the other lines with feedback.  It requires a very high 60% positive feedback number to get a 3C per century rise, close to the IPCC base forecast, and nutty 87% feedback to get temperature rises as high as 10C, which have been quoted breathlessly in the press.  It is amazing to me that any natural scientist can blithely accept such feedback numbers as making any sense at all, particularly since every other long-term stable natural process is dominated by negative rather than positive feedback.
By saying that climate is "more sensitive than we thought" means essentially that Mr. Chu and others are assuming higher and higher levels of positive feedback.  But even the lower feedback numbers are almost impossible to justify given past experience.  If we project these sensitivity numbers backwards, we see: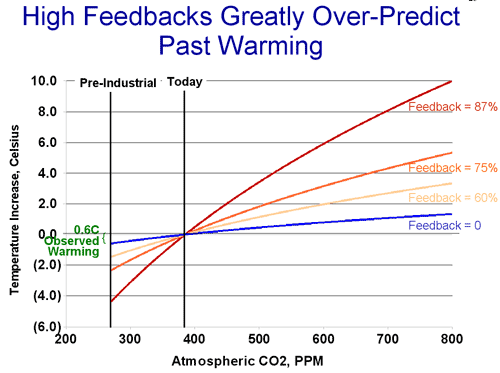 The higher forecasts for the future imply that we should have seen 2-4C of warming over the last century, which we clearly have not.  Even if all the past warming of the last century is attributable to man's CO2  (a highly unlikely assumption) past history only really justifies the zero feedback case  (yes, I know about damping and time delays and masking and all that — but these adjustments don't come close to closing the gap).
In fact, there is good evidencethat at most, man's CO2 is responsible for about half the past warming, or 0.3-0.4C.  But if that is the case, as the Reference Frame put it:
The authors looked at 750 years worth of the local ice core, especially the oxygen isotope. They claim to have found a very strong correlation between the concentration of this isotope (i.e. temperature) on one side and the known solar activity in the epoch 1250-1850. Their data seem to be precise enough to determine the lag, about 10-30 years. It takes some time for the climate to respond to the solar changes.

It seems that they also have data to claim that the correlation gets less precise after 1850. They attribute the deviation to CO2 and by comparing the magnitude of the forcings, they conclude that "Our results are in agreement with studies based on NH temperature reconstructions [Scafetta et al., 2007] revealing that only up to approximately 50% of the observed global warming in the last 100 years can be explained by the Sun."…

Note that if 0.3 °C or 0.4 °C of warming in the 20th century was due to the increasing CO2 levels, the climate sensitivity is decisively smaller than 1 °C. At any rate, the expected 21st century warming due to CO2 would be another 0.3-0.4 °C (the effect of newer CO2 molecules is slowing down for higher concentrations), and this time, if the solar activity contributes with the opposite sign, these two effects could cancel.
Not surprisingly, then, given enough time to measure against them, alarmist climate forecasts, such as James Hansen's below, tend over-estimate actual warming.  Which is probably why the IPCC throws out their forecasts and redoes them every 5 years, so no one can call them on their failures (click to enlarge chart below)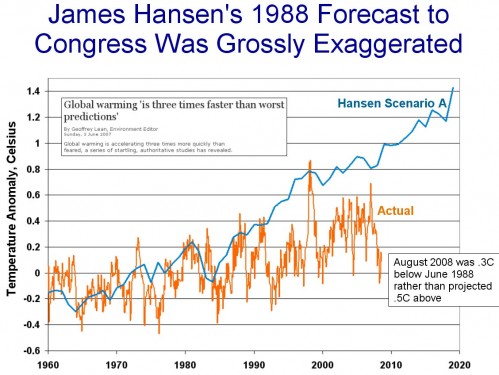 Because, at the end of the day, for whatever reason, warming has slowed or stopped over the last 10 years, even as CO2 concentrations have increased faster than ever in the modern period.  So it is hard to say what physical evidence one can have that tenperature sensitivity to CO2 is increasing.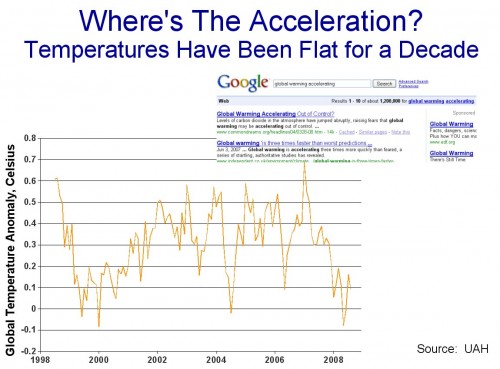 Update: First, to answer a couple of questions, the data above is from the UAH, not Hansen's GISS.  To be fair to Hansen, it has been adjusted to be re-centered on his data for the period before 1988 (since all of the major data sets use different zero centers for their anomalies, they have to be re-centered to be compared, a step many often forget to take).
I have a number of issues with the quality and reliability of surface temperature data, and the GISS data in particular, so I think the satellite data is a better source (just as we abandoned observations by passing ships in favor of satellite measurement of sea ice extent, it is probably time to do the same for surface temperature measurement).    Second, if I understand one of the comments correctly, there is some implication that I am being nefarious is cutting off the data in August of 2008.   Hardly.  Unlike those who work at this full time, I do this as a hobby between crises in my day job,  so I tend to reuse charts for a few months until I have time to create new ones.  Certainly there is nothing in the Sep-Nov UAH temperature data, though, that magically validates Hansen's forecast.  I think November was a few tenths higher than August (making it just about even with June 1988) but well short of Hansen's forecast.

One thing I didn't mention, but Hansen and his enablers are often dishonest in trying to explain away the above forecast.  They will say, well, the A case was extreme and not meant to conform to reality.  But the only differences between the forecasts was in their CO2 output assumptions, and in fact Hansen A actually understated CO2 production and growth since 1988.  If anything, it was conservative!