OK, we continue to the final paragraph of Gavin Schmidt's postadmitting a minor error in the October GISS numbers, and then proceeding to say that all the folks who pointed out the error are biased and unhelpful, in spite of the fact (or maybe because of the fact) that they found this error.
As I reviewed in part 1, most of the letter was just sort of petulant bad grace.  But this paragraph was worrisome, and I want to deal with it in more depth:
Which brings me to my last point, the role of models. It is clear that many of the temperature watchers are doing so in order to show that the IPCC-class models are wrong in their projections. However, the direct approach of downloading those models, running them and looking for flaws is clearly either too onerous or too boring. Even downloading the output (from here or here) is eschewed in favour of firing off Freedom of Information Act requests for data already publicly available – very odd. For another example, despite a few comments about the lack of sufficient comments in the GISS ModelE code (a complaint I also often make), I am unaware of anyone actually independently finding any errors in the publicly available Feb 2004 version (and I know there are a few). Instead, the anti-model crowd focuses on the minor issues that crop up every now and again in real-time data processing hoping that, by proxy, they'll find a problem with the models.

I say good luck to them. They'll need it.
Since when has direct comparison of forecast models against observation and measurement been the wrong way to validate or invalidate the forecast or model? I am sure there were lots of guys who went through the Principia Mathematica and tore apart the math and equations to make sure they balanced, but most of the validation consisted of making observations of celestial bodies to see if their motion fit the predicted results.  When Einstein said time would change pace in a gravity well, scientists took atomic clocks up in high-altitude airplanes to see if his predictions matched measured results.  And physicists can play with models and equations all day, but nothing they do with the math will be as powerful as finding a Higgs Boson at the LHC.
Look, unlike some of the commenters Schmidt quoted, there is no reason to distrust a guy because his staff made a data error.  But I think there is a big freaking reason to distrust someone who gets huffy that people are using actual data measurements to test his prediction models.
There is probably a reason for Schmidt to be sensitive here.  We know that Hansen's 1988 forecasts don't validate at all against actual data from the last 20 years (below uses the Hansen A case from his Congressional testimony, the case which most closely matches actual CO2 production since the speech).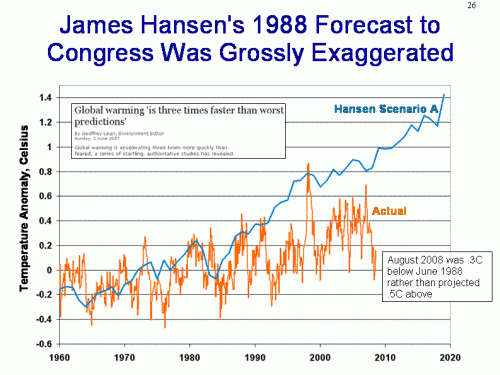 More recent forecasts obviously have had less time to validate.  Many outsiders have found that current temperatures fall outside of the predicted range of the IPCC forecasts, and those that have found temperatures within the error bars of the forecasts have generally done so by combining large error bars, white noise, and various smoothing approaches to just eek actual temperatures into the outer molecular layers of the bottom edge of the forecast band.
As to the rest, I am not sure Schmidt knows who has and has not poked around in the innards of the models – has he studied all the referrer logs for their web sites?  But to some extent this is beside the point.  Those of us who have a lot of modeling experience in complex systems (my experience is in both econometrics and in mechanical control systems) distrust models and would not get any warm fuzzies from poking around in their innards.  Every modeler of chaotic systems knows that it is perfectly possible to string together all sorts of logically sound and reasonable assumptions and algorithms only to find that the whole mass of them combined spits out a meaningless mess.  Besides, there are, what, 60 of these things?  More?  I could spend 6 months ripping the guts out of one of them only to have Schmidt then say, well there are 59 others.  That one does not really affect anything.  I mean, can't you just see it — it would be entirely equivalent to the reaction every time an error or problem measurement station is found in the GISS data set.  I am sure Schmidt would love us all to go off on some wild goose chase in the innards of a few climate models and relent on comparing the output of those models against actual temperatures.
No, I am perfectly happy to accept the IPCC's summary of these models and test this unified prediction against history.  I am sure that no matter what temperature it is this month, some model somewhere in the world came close.  But how does that help, unless it turns out that it is the same model that is right month after month, and then I might get excited someone was on to something.  But just saying current temperatures fall into a range where some model predicts it just says that there is a lot of disagreement among the models, and in turn raises my doubts about the models.
The last sentence of Schmidt's paragraph is just plain wrong.  I have never seen anyone who is out there really digging into this stuff (and not just tossing in comments) who has said that errors in the GISS temperature anomaly number imply the models are wrong, except of course to the extent that the models are calibrated to an incorrect number.  Most everyone who looks at this stuff skeptically understand that the issues with the GISS temperature metric are very different than issues with the models.
In a nutshell, skeptics are concerned with the GISS temperature numbers because of the signal to noise problem, and a skepticism that the GISS has really hit on algorithms that can, blind to station configuration, correct for biases and errors in the data.  I have always felt that rather than eliminate biases, the gridcell approach simply spreads them around like peanut butter.
My concern with the climate models is completely different.  I won't go into them all, but they include:
the inherent impossibility of modeling such a chaotic system
scientists assume CO2 drives temperatures, so the models they build unsurprisingly result in CO2 driving temperature
modelers assume WAY too much positive feedback.  No reasonable person, if they step back from it, should really be able to assume so much positive feedback in a long-term stable system
When projected backwards, modeler's assumptions imply far more warming than we have experienced, and it takes heroic assumptions and tweaks and plugs to make the models back-cast reasonably well.
Its insane to ignore changes in solar output, and/or to assume that the sun over the last 40 years has been in a declining cycle
Many models, by their own admission, omit critical natural cycles like ENSO/PDO.
By the way, my simple hypothesis to describe past and future warming is here.
As a final note, the last little dig on Steve McIntyre (the bit about FOIA requests) is really low.  First, it is amazing to me that, like Hogwarts students who can't say the word Voldemort, the GISS folks just can't bring themselves to mention his name.  Second, Steve has indeed filed a number of FOIA requests on Michael Mann, the GISS, and others.  Each time he has a pretty good paper trail of folks denying him data (Here is the most recent for the Santer data). Almost every time, the data he is denied is taxpayer funded research, often by public employees, or is data that the publication rules of a particular journal require to be made public.  And remember the source for this — this is coming from the GISS, which resisted McIntyre's calls for years to release their code  (publicly funded code of a government organization programmed by government employees to produce an official US statistic) for the GISS grid cell rollup of the station data, releasing the code only last year after McIntyre demonstrated an error in the code based on inspection of the inputs and outputs.
At the end of the day, Hansen and Schmidt are public employees who like having access to government budgets and the instant credibility the NASA letterhead provides them, but don't like the public scrutiny that goes with it.  Suck it up guys.  And as to your quest to rid yourself of these skeptic gadflies, I will quote your condescending words back to you:  Good Luck.  You'll need it.