University of Arizona will host one of eight regional climate-science centers to help the federal government study the potential effects of climate change on natural resources and the environment.

The Southwest Climate Center will bring together scientists from six universities to study a range of issues and offer guidance to federal resource managers through the Interior Department, which will oversee the regional center.

Jonathan Overpeck, co-director of the UA Institute of the Environment, will be the center's principal investigator….

Interior Secretary Ken Salazar on Wednesday announced the selection of UA to host the center, which will receive an initial five-year, $3.1 million grant.
The University of Arizona climate department has distinguished itself in the past by running this fine temperature monitoring station, located between buildings in the middle of an asphalt parking lot: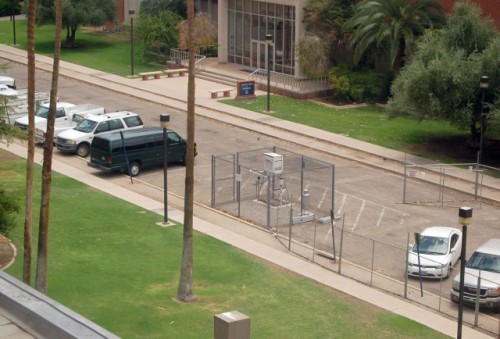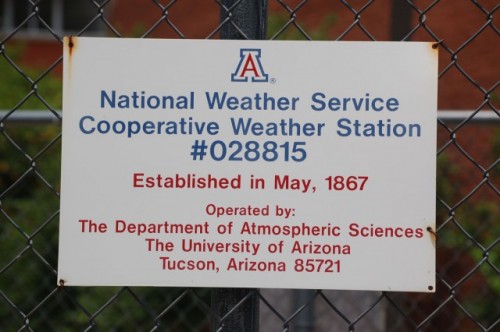 More important to the selection than the UA's staff actual ability to, you know, monitor the climate is likely Jonathan Overpeck's impeccable credentials in the alarmist community.  Overpeck was a coordinating lead author of the IPCC AR4 paleoclimate chapter, and thus had a leading role in promoting the hockey stick and attempting to make the Medieval Warm Period go away.
The powers that be that give out large grants certainly weren't going to give the center to Arizona State, which had the temerity to actually have skeptic Robert Balling on staff (with Sherwood Idso as an adjunct professor) .  If ASU wants any real climate cash, they likely will need to find a way to get rid of Balling under some pretext.
We can see that employing skeptics is very bad for business.  After all, Exxon gave the ASU climate department $49,500, compared to  62 times this amount to UA from alarmists in Washington.  Of course, we all know that the Exxon money was far more corrupting.  ASU likely perverted science entirely for 49K, but UA would never do so for 3.1 million.