I have written a number of times about what appear to be arbitrary or extreme manual adjustments to surface temperature records.  These adjustments are typically positive (ie they make the temperature trend more positive) and often their magnitude outweighs the underlying temperature signal being measured, raising serious issues about the signal to noise ratio in temperature measurement.  Willis Eschenbach on Anthony Watts' site brings us one of the most extreme examples I have seen, this time from Australia.
I will leave it to you to click through for the whole story, but here are graphs of the Darwin temperature station before and after adjustments.  First the raw data (this, by the way, is what the CRU so famously threw out, so we can't do this analysis for CRU adjustments)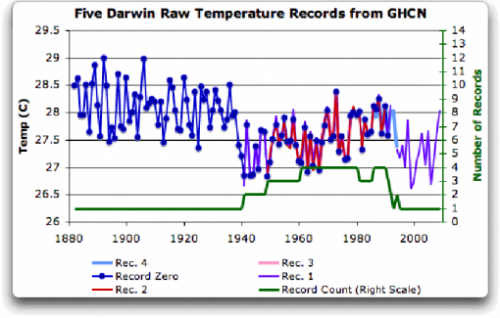 I would be willing to believe the splice-discontinuity around 1940 is an artifact of the data, and one might either throw out the data before 1940 or re-zero it consistent with later data.  Or it might be real.  We really don't know, we can only guess.  We need to be careful how frequently we guess, as each guess corrupts the data, no matter how much we are trying to improve things.    We might get clues from other nearby thermometers, which is discussed in the article, but thermometers are few and far between in 1920's Australia.
The other guess we might make is looking around the town of Darwin, seeing the growth of the urban area, we might want to adjust current temperatures down a bit to correct for the urban heat island effect.  Again, we have to be careful, because we are just guessing.
Here is what the GHCN actually does to adjust the data. The black line is the amount manually added to temperatures, resulting in the red line.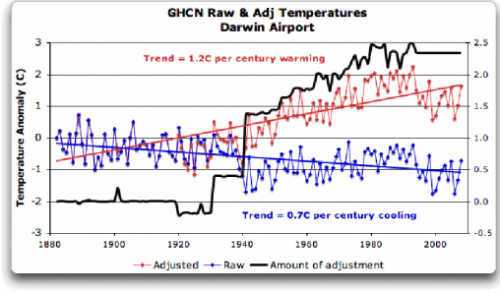 Wow! Instant global warming.  We've suddenly added 2C per century to the Darwin warming trend.
So, why does the black line look like this?  We don't know, because climate scientists play these games in secret and claim that anyone trying to audit their fine work is just distracting them from more weighty pursuits.   Nominally, the GHCN claims the adjustments are based on comparisons with other local thermometers, but there are not other local thermometers in their data base and the closest ones (hundreds of kilometers away) do not display any behavior that might justify this adjustment.
It is time that we demand the ability to audit and replicate these adjustments.