I try really, really hard not to get pulled into the ad hominem attacks that fly around the climate debate.  So the following is just for fun on a Friday, and is not in any way meant to be a real climate argument.  However, since so many alarmists like to attack skeptics as being anti-science, I thought I would have a bit of fun.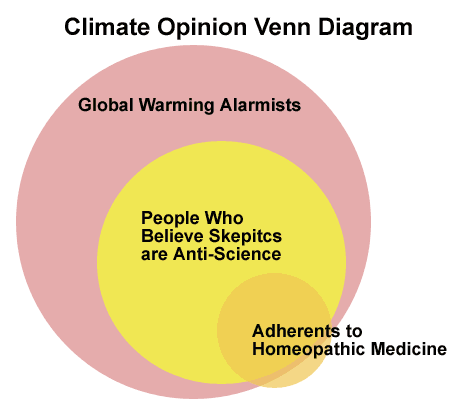 This diagram was spurred by this post from Reason's Radley Balko:
The Science Blogs are having fun with the "wellness editor" at the Huffington Post, a woman who claims to have a "doctorate in homeopathic medicine." An odd choice for a lefty website that makes such hay of the right's hostility to science. I like this comment: "…a doctorate in homeopathic medicine would be a blank piece of paper soaked in a 1:10,000,000 tincture made from the ink of an actual doctor's diploma."
Just to head off the obvious, I have no doubt a similar Venn diagram could be created for skeptics and people who believe the world is only 4000 years old.  Both arguments are equally meaningless when it comes down to whether the science is correct.