Anthony Watts has an interesting blink comparisonbetween the current version of history from the GISS and their version of history in 1999.  It is amazing that all of the manual adjustments they add to the raw data constantly have the effect of increasing historical warming.  By continuing to adjust recent temperatures up, and older temperatures down, they are implying that current measurement points have a cooling bias vs. several decades ago.  REALLY?  This makes absolutely no sense given what we now know via Anthony Watt's efforts to document station installation details at surfacestations.org.
I created a blink comparison a while back that was related but slightly different.  I created a blink comparison to show the effect of NOAA manual adjustments to the raw temperature data.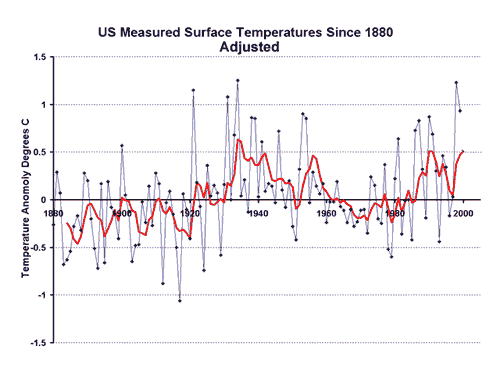 My point was not that all these adjustments were unnecessary (the time of observation adjustment is required, though I have always felt it to be exaggerated).  But all of the adjustments are upwards, even those for station quality.  The net effect is that there is no global warming signal in the US, at least in the raw data.  The global warming signal emerges entirely from the manual adjustments.  Which causes one to wonder as to the signal to noise ratio here.  And increases the urgency to get more scrutiny on these adjustments.
It only goes through 2000, because I only had the adjustment numbers through 2000.  I will see if I can update this.