Hurricanes offer a difficult data set to work with. Since there are so few, even small numerical changes year over year can lead to substantial percentage changes. Also, random variations in landfall can change at least media perceptions of hurricane frequency. That is why I have argued for a while that metrics like total cyclonic energy are better for looking at hurricane trends. And, as you can see below, there has been no positive trend over the last 15 years or so: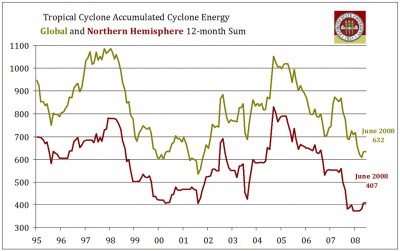 The Australian National Climate Center confirmed these findings:
Concern about the enhanced greenhouse effect affecting TC frequency
and intensity has grown over recent decades. Recently, trends in global
TC activity for the period 1970 to 2004 have been examined by Webster
et al. [2005]. They concluded that no global trend has yet emerged in the total number of tropical storms and hurricanes."… For the 1981/82 to 2005/06 TC seasons, there are no apparent trends in the total numbers and cyclone days of TCs, nor in numbers and cyclone days of severe TCs with minimum central pressure of 970 hPa or lower.