I could probably fill this blog with examples of fact-challenged alarmism, but this one is so easy to debunk it is just staggering. I am going to make the dangerous assumptions that the WWF is not just outright lying. If that is true, this is a great example of how popular perception and hysteria substitute for facts and observations. The WWF is just so convinced this is going on, no one even bothers to check to see if it is true. First the story, from here, via Tom Nelson:
According to a recent report, endangered migratory whales will have reduced feeding areas due to the shrinkage of Antarctic sea ice from global warming.

The Worldwide Fund for Nature (WWF) said this could threaten the species. The report, "Ice Breaker – Pushing the boundaries for Whales" says whales will soon have to travel up to 310 miles further south in search of food because the ice will retreat up to 30 percent in some areas.

The study also says the whales' food supply will be further reduced because of the balance between cold sea ice and warmer sea water which causes an up swelling of nutrients that could further contract.

WWF officer Heather Sohl said, "Essentially, what we are seeing is that ice-associated whales such as the Antarctic minke whale will face dramatic changes to their habitat over little more than the lifespan of an individual whale."
OK, two problems with this. First, the even the IPCC predicts Antarctic ice to grow, not shrink, even under a strong global warming case. Note the Antarctic is below zero, actually contributing to a sea level drop and mitigating Greenland melting.
And, there is that problem of reality introding, because in fact Antarctica has been hitting 30-year highs for sea ice extent over the past year: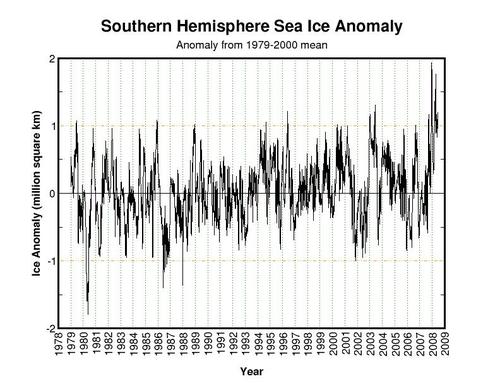 I will leave it to y'all in the comments to decide if they are outright lying or if they are just ignorant.