The topic of creating global warming at the computer workstation with poorly-justified "corrections" of past temperature records is one with which my readers should be familiar. Some older posts on the topic are here and here and here.
The Register updates this topic use March, 2008 temperature measurements from various sources. They show that in addition to the USHCN adjustments we discussed here, the GISS overlays another 0.15C warming through further adjustments.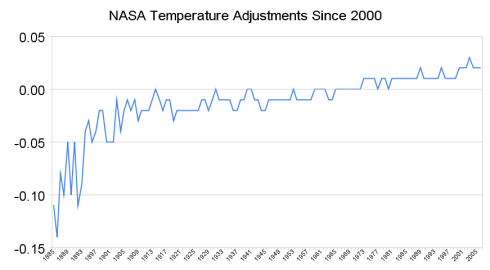 Nearly every measurement bias that you can imagine that changes over time tends to be an upward / warming bias, particularly the urban heat island effect my son and I measured here. So what is all this cooling bias that these guys are correcting for? Or are they just changing the numbers by fiat to match their faulty models and expensive policy goals?
Update: Another great example is here, with faulty computer assumptions on ocean temperature recording substantially screwing up the temperature history record.