While this may seem an odd statement, the main driver behind weather deaths is probably not weather:
For tornadoes, since peaking in the early decades of the 20th century, deaths declined by over 80% while death rates declined by 92% (based on 10-year moving averages for 1916-2006) . [See Figures 6 and 7.]

For other extreme events — lightning, floods and hurricanes – US deaths and death rates are also below their peak levels of a few decades ago. Their declines in annual mortality range from 62 to 80%, while mortality rates declined 75 to 95%.

Globally, mortality and mortality rates have declined by 95% or more since the 1920s. The largest improvements came from declines in mortality due to droughts and floods, which apparently were responsible for 93% of all deaths caused by extreme events during the 20th Century. For windstorms, which, at 6%, contributed most of the remaining fatalities, mortality rates are also lower today but there are no clear trends for mortality.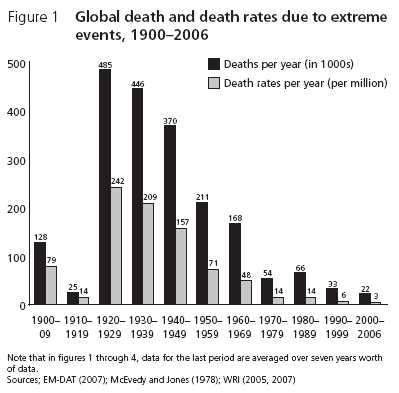 Imagine three regressions, each between the declining deaths above and some variable. The first is against CO2 and/or temperature. Many global warming alarmists argue that increasing temperatures leads to more severe weather and weather deaths, but clearly this is not even the right sign.
The second variable is total severe weather events, which is a line that is relatively flat over time with a lot of noise. Again, clearly this does not have much explanatory power.
The third variable is global wealth and development, which is growing strongly. I think the best correlation you would find is with this latter, or rather, with its inverse, which can be thought of as the reduction of poverty. As people get wealthier, they are better able to either escape or survive severe weather events.
The reason I bring this up is because it is interesting to see the preferred solutions being offered for supposed man-made climate change. All of these proposals, whether they admit it or not, sacrifice wealth and development for reductions in CO2. They all reduce the one variable proven to decrease mortality from weather (ie welath) and substitute a focus on a variable (CO2) that has absolutely no explanatory power for the historical data, except perhaps in its inverse.