Somehow, man's burning of fossil fuels in the late 20th century has caused glaciers to begin melting … starting in the 18th century.
Courtesy of I Love My CO2, comes this map of the pretty steady retreat of a glacier in Greenland.
Unfortunately, I can't find his source. What makes me believe that this is accurate is this similar map of the glaciers at Glacier Bay, Alaska, from Alaska Geographic: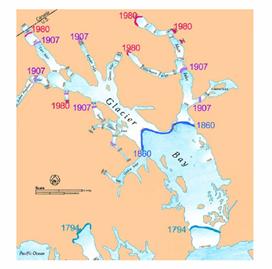 There is also pretty good evidence that the glaciers of Kilamanjaro were retreating before 1900 and most of their measured retreat has occured before 1950. More here.