Roger Pielke Jr has gone back to the first IPCC assessment to see how the IPCC is doing on its long-range temperature forecasting. He had to dign back into his own records, because the IPCC seems to be taking its past reports offline, perhaps in part to avoid just this kind of scrutiny. Here is what he finds: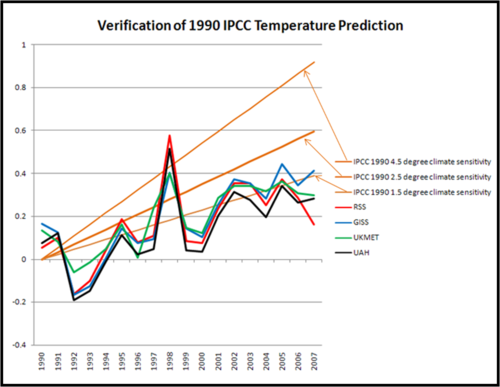 The colored lines are various measures of world temperature. Only the GISS, which maintains a surface temerpature rollup that is by far the highest of any source, manages to eek into the forecast band at the end of the period. The two satellite measures (RSS and UAH) seldom even touch the forecast band except in the exceptional El Nino year of 1998. Pielke comments:
On the graph you will also see the now familiar temperature records from two satellite and two surface analyses. It seems pretty clear that the IPCC in 1990 over-forecast temperature increases, and this is confirmed by the most recent IPCC report (Figure TS.26), so it is not surprising.
Which is fascinating, for this reason: In essence, the IPCC is saying that we know that past forecasts based on a 1.5, much less a 2.5, climate sensitivity have proven to be too high, so in our most recent report we are going to base our forecast on … a 3.0+!!