Note this chart used by Andrew Revkin: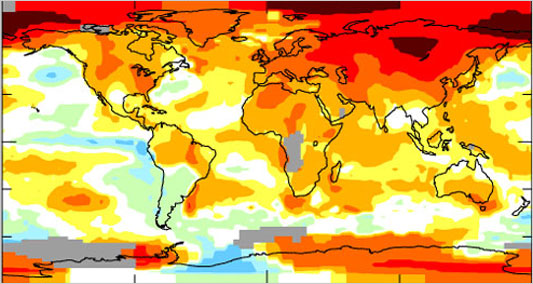 The description of the chart is as follows:
Map shows areas in 2007 that were warmer (reds) and colder (blues) than the mean annual temperature from 1951-1980. (Credit: NASA/GISS)
It is said that a picture is worth a thousand words. Let me see if I can come up with a thousand words as to what is wrong with this picture.
Flip your eyes between the two of them — already we see a huge visual difference in impression. (Update: better version here, using a tool from the GISS no less!)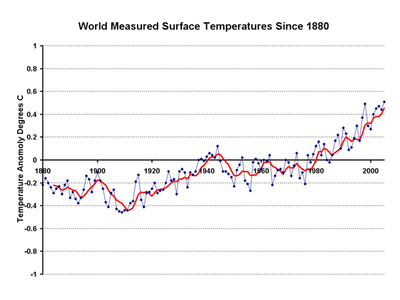 Hey, what do you know? 1950 to 1980 represents a low point in the trend. Since they were trying to make a point about warming accelerating, then it might have made more sense to look at the warming since, say, 1998 — ie over the last decade. Unfortunately, that chart would be all blue, since temperatures throughout this century have been lower than 1998.
If you only plotted data for 250km squares where the GISS actually has the data do make this comparison, without the mythical extrapolation into unmeasured areas, the chart should look like this: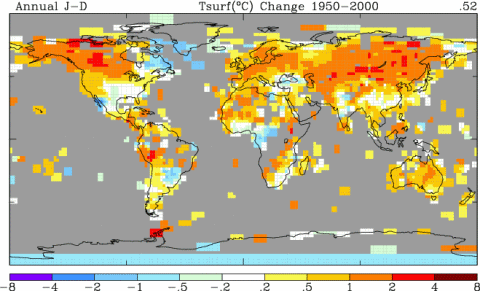 How did they fill in all that grey area? You tell me because Hansen certainly isn't talking.
Satellite temperature measurement makes immensely more sense – it has full coverage (except for the poles) and is not subject to local biases. Can anyone name one single reason why the scientific community does not use the satellite temps as the standard EXCEPT that the "answer" (ie lower temperature increases) is not the one they want? Consider the parallel example of measurement of arctic ice area. My sense is that before satellites, we got some measurements of arctic ice extent from fixed observation stations and ship reports, but these were spotty and unreliable. Now satellites make this measurement consistent and complete. Would anyone argue to ignore the satellite data for spotty surface observations? No, but this is exactly what the entire climate community seems to do for temperature.

The surface temperature record shows the same thing

There is one area warming – the relatively small Antarctic Peninsula. It should be orange in the map above (and is) but the rest of the orange in Antarctica is a mystery. Though this would not be the first time people tried to extrapolate Antarctic trends from the tip of this peninsula (Gore did it in his movie and 60 minutes did it the other day). This is a bit like measuring US temperature trends from Key West. More on Antarctica here. By the way, the GISS chart without all the extrapolation that I show only has the hot area on the penninsula. All the other hot zones comes from, where? James Hansen's imagination?
Update: Here is a similar map by satellite, which avoids the coverage issues as well as urban and other surface measurement biases. The story here is much more interesting, particularly the very different experience between north and south, something not predicted by greenhouse gas theory. One can see that there has definitely been warming, but mostly concentrated at the north pole.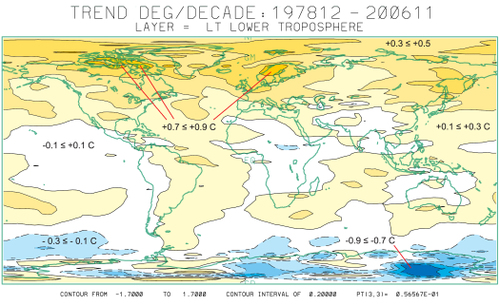 Here is the last monthly image, for December, 2007: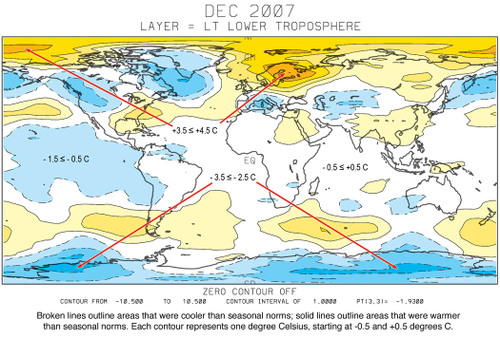 Update: I have been getting a lot of new readers of late, including a number of commenters who disagree with me fairly strongly. Welcome. Here are some general thoughts:
Excepting some ads for Viagra and cell phones, I have never and will never delete a comment on this site. Folks are welcome to fill up the comment threads with contrary opinions. For those distrustful of the motives of skeptics, may I observe that sites like RealClimate cannot make this claim and routinely flush comments that don't agree with the local prevailing doctrine, so make of that what you will.
I almost never respond to comments in the comment thread itself. I like to think about and digest the comments for a while, and then incorporate them or respond to them in later posts. Trying to respond in real time in comment threads results in flame wars, not reasoned discussion.
Unlike many skeptics, I accept that atmospheric CO2 produced by man can warm the earth. The IPCC and most climate scientists believe that the greenhouse gas effect alone may warm the earth about a degree over the rest of this century, an amount that would be a nuisance rather than catastrophic, and likely lost in the random noise of natural variations.
However, I do not believe the earth's climate is dominated by strong positive feedbacks and tipping points. It is this feedback hypothesis in climate models that multiplies warming to 3-4-5 degrees or more over the next century. In climate models, the catastrophe comes from feedback, not greenhouse effects, and I think this is a bad hypothesis. Believers in catastrophic warming have an interesting problem reconciling Mann's hockey stick, which points to incredible stability in temperatures, with a hypothesis of very high positive feedback, which should make temperatures skittish and volatile. I also think that the hypothesis that aerosols are masking substantial amounts of warming is weak, and appears to be more wishful thinking to bail out model builders than solid science (while there is some cooling effect, the area of effect is local and shouldn't have a substantial effect on global averages).
I think the surface temperature record as embodied in the GISS analysis is a joke. I cannot respect scientists who eschew obviously superior satellite measurements for the half-assed surface temperature record just because it doesn't give them the answer they want to here. The fact that the leader in fighting for surface temeprature measurement over satellites is James Hansen of NASA's Goddard Institute for Space Studies is the ultimate dark irony. It's like Bill Gates campaiging for increased abacus use in schools.
I have built models of complex systems for years. I have been guilty many times of allowing seamingly reasonable assumptions to compound into meaningless results. Unfortunately and embarassingly, I have also been guilty of tweaking, plugging, and tuning models to better match history in order to build confidence in their future predictions. I see all too many of these same behaviors amoung climate modellers.