Last week we saw how Antarctic ice is advancing, but somehow this never makes the news despite huge coverage of Arctic ice retreats.
One good reason for this may well be that there has been no measured warming in Antarctica over the last 50 years.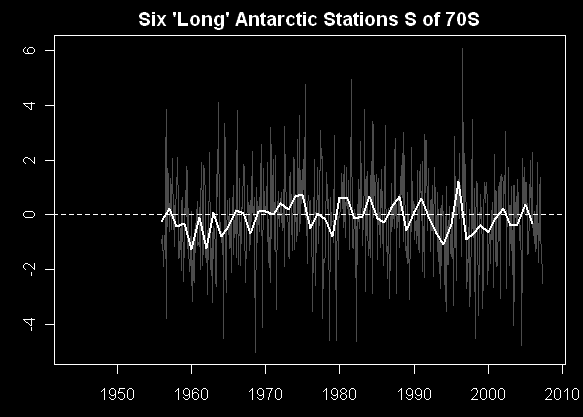 Steve McIntyre summarizes
As I've discussed elsewhere (and readers have observed), IPCC AR4 has some glossy figures showing the wonders of GCMs for 6 continents, which sounds impressive until you wonder – well, wait a minute, isn't Antarctica a continent too? And, given the theory of "polar amplification", it should really be the first place that one looks for confirmation that the GCMs are doing a good job. Unfortunately IPCC AR4 didn't include Antarctica in their graphics. I'm sure that it was only because they only had 2000 or so pages available to them and there wasn't enough space for this information.