The Blackboard has done a bit more work to do a better assessment of Hansen's forecast to Congress 20 years ago on global warming than I did in this quick and dirty post here. To give Hansen every possible chance, the author has evaluated Hansen's forecast against Hansen's preferred data set, the surface temperature measurements of the Hadley Center and his own GISS (left to other posts will be irony of a scientist at the Goddard Institute of Space Studies at NASA preferring klunky surface temperature measurements over satellite measurements, but the surface measurements are biased upwards and so give Hansen a better shot at being correct with his catastrophic warming forecasts).
Here is the result of their analysis: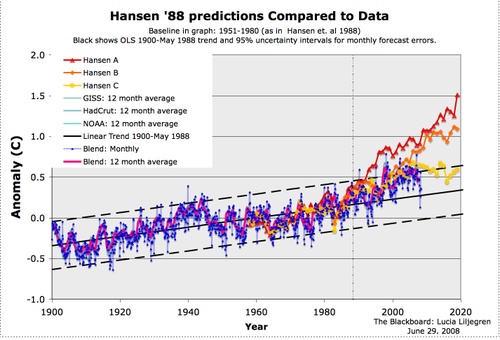 All three forecasts are high.
Don't be too encouraged at Hansen's prediction power when you observe the yellow line is not too far off. The yellow line represented a case where there was a radical effort to reduce CO2, something we have not seen. Note that these are not different cases for different climate sensitivities to CO2 — my reading of Hansen's notes is that these all use the same sensitivity, just with different CO2 production forecast inputs. In fact, based on our actual CO2 ouput in the last 20 years, we should use a case between the orange and the red to evaluate Hansen's predictive ability.