Anthony Watts has initiated a nationwide effort to photo-document the climate stations in the US Historical Climate Network (USHCN). His database of documented sites continues to build at SurfaceStations.org. Some of my experiences contributing to his effort are here and here.
Using criteria and a scoring system devised years ago based on the design specs of the USHCN and use in practice in France, he has scored the documented stations as follows, with 1 being a high-conforming site and 5 being a site with many local biaes and issues. (Full criterea here)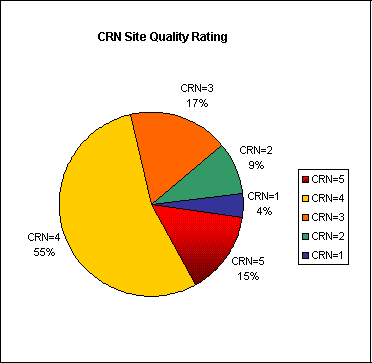 Note that category 3-5 stations can be expected to exhibit errors from 1-5 degrees C, which is huge both because these stations make up 85% of the stations surveyed to date and because this error is so much greater than the "signal." The signal we are trying to use the USHCN to detect is global warming, which over the last century is currently thought to be about 0.6C. This means that the potential error may be 2-8 times larger than the signal. And don't expect these errors to cancel out. Because of the nature of these measurement problems and biases, almost all of these errors tend to be in the same direction – biasing temperatures higher – creating a systematic error that does not cancel out. Also note that though this may look bad, this situation is probably far better than the temperature measurement in the rest of the world, so things will only get worse when Anthony inevitably turns his attention overseas.
Yes, scientists try to correct for these errors, but so far they have done so statistically without actually inspecting the individual installations. And Steve McIntyre is doing a lot of work right now demonstrating just how haphazard these measurement correction currently are, though there is some recent hope that things may improve.