It is almost impossible to avoid stories about Arctic sea at the lowest recorded level. The National Geographic, who should know better, had the temerity to headline "Arctic Ice at All-Time Low". All-time? Really? In the 6 billion year history of the earth, this is the least ice ever in the Arctic? Well, no, it's the least since we have started measuring it. So when was that? Only since about 1979 when we had sattelites that could make this measurement. OK, so its the least ice in about 25-30 years.
To a one, scientists and media making this observation about Arctic sea ice use it as a leading indicator of catastrophic global warming. The National Geographic even suggests it is evidence that we are at a tipping point, or a cusp of rapid acceleration of warming.
There is little doubt the Arctic has been warming the last 30 years or so, but some doubt whether it is warmer even than the 1940's. Be that as it may, last I checked there were two poles with sea ice. It's funny no one ever mentions the South Pole. Do you think that they just forgot? Or could it be that the facts don't conviniently fit the storyline? Luboš Motl picks up the story:
Some analysts have speculated that the new record could be evidence of global warming. But is it? Even though it may sound very complicated, it turns out that the Earth is round. At the global scale, there is not one polar region but, in fact, two. There is also sea ice on the Southern Hemisphere. It turns out that the Antarctic sea ice area reached 16.2 million squared kilometers in 2007 – a new absolute record high since the measurements started in 1979
The data is here: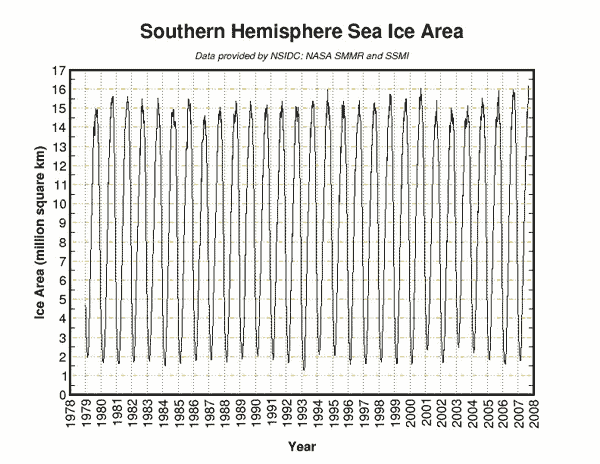 If you watched An Inconvinient Truth, you will be saying, "this can't be right." In that movie, Al Gore and company showed compelling films of melting and warming in Antarctica. Well, it turns out that most of Antarctica is seeing more snowfall and ice formation and the same or colder temperatures, but one small area, about 2% of the landmass on the Antarctic penninsula, is seeing warming. Guess which area the movie chose to focus on?
Even if the Antarctic were warming, most climate scientists expect snow and ice pack to increase there, not decrease. Yes, warmer weather melts ice, but Antarctica is so freaking cold a few degrees are no more likely to melt ice than steel is to melt in the Arizona sunshine. But warmer weather does vaporize more water, which is expected to fall as snowpack in Antarctica. That is why despite Al Gore's claims that oceans will rise 20 feet or more, serious scientists don't expect much more than a foot, even with warming numbers far higher than I think are credible. That's because ice melting in Greenland and other glaciers is offset by increasing snow pack in Antarctica (melting sea ice has no effect on ocean levels, since the ice floats, for the same reason that ice melting in your glass of water will not cause the glass to overflow).
By the way, since we are talking about retreating ice, here is a picture showing the retreat of the Glaciers at beautiful Glacier Bay, Alaska.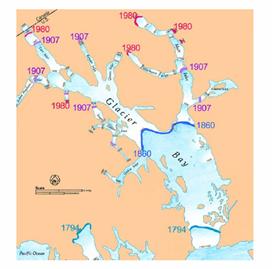 So most of the retreat of the glaciers occured between 1794 and 1907, which is fairly hard to correlate with man's use of fossil fuels or global CO2 levels.