Charleses have not had the best of luck on the English throne.  And the current Prince of Wales does not seem to be doing much to change that tradition.  The other day he said:
"Well, if it is but a myth, and the global scientific community is involved in some sort of conspiracy, why is it then that around the globe sea levels are more than six inches higher than they were 100 years ago?

"This isn't an opinion – it is a fact."

He added: "And, ladies and gentlemen please be in no doubt that the evidence of long-term and potentially irreversible changes to our world is utterly overwhelming."
Here is the deal with sea levels.  Yes, they were rising in 2009.  And they were rising in 2000.  And they were rising in 1950.  And they were rising in 1900.  And they were rising in 1850.   In fact, sea levels have been rising (due to thermal expansion of water and perhaps some melting land ice**) since the end of the little ice age  (and longer, see WUWT)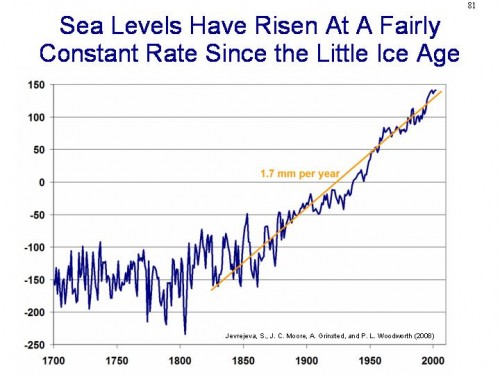 In fact, I would argue that this extended sea level rise helps disprove, rather than prove, the strong anthropogenic hypothesis.   The influence of manmade CO2 had to be small from 1850 to 1900 or even 1950.  Therefore, for the 1950-2000 sea level rise to be due to man, it means the natural warming had to stop at the exact same moment that anthropogenic effects took over.  Occam's Razor says a better answer is that the end of the little ice age around 1800 has led to a general recovery of temperatures ever since.  We see the exact same pattern in glaciers melting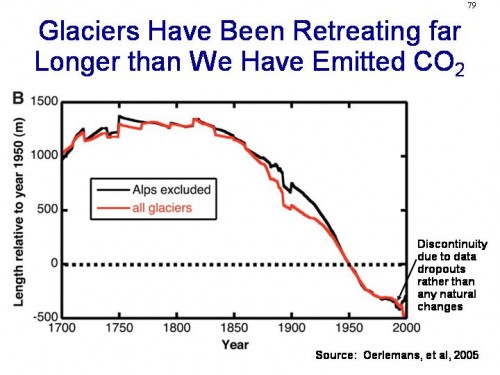 So many people are obsessed over whether or not current temperatures are the highest in the last 100o years or not, they forget that the temperatures in the little ice age were in fact lower than at any time in perhaps the last 5000 years.  It was very cold.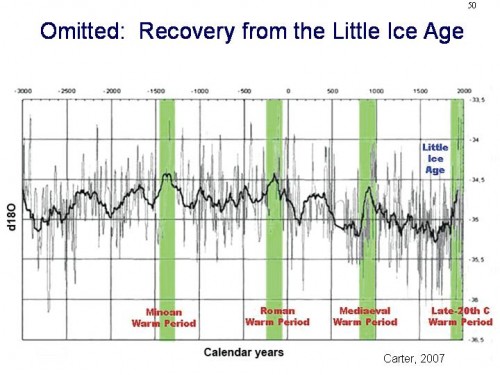 Postscript: By the way, I love the carbon footprint for me, but not for thee angle of the Prince Charles story:
Charles spoke after arriving in Manchester by Royal Train pulled by a coal-fired steam locomotive, named the Tornado, which was rebuilt from a 1948 design.
** Footnote: We know glaciers around the world have retreated since 1850, as shown above, but 90% of the world's land ice is in Antarctica and we don't fully understand what has happened there.  Some climatologists believe that warming weather actually increases the ice pack in Antarctica because it never will cause much melting but it increases  snowfall.