I made a 30-minute presentation to the California Regional Council of Rural Counties yesterday. The audience was mainly county supervisors and other officials from about 30 rural counties. The presentation was the skeptical counterpoint to a presentation by Joe Nation, who among other accomplishments was an author of AB32, the California global warming abatement law. Download RCRC_Global_Warming_Presentation_update_Sept-25-2008.ppt . Some of the charts may not be self-explanatory, so I am working on a YouTube video with my speech overlaid on the slides.
It was an interesting experience for me because the audience was hugely sympathetic to my pitch, but frustrated because, for them, it was beside the point: They were already committed by AB32 to take drastic and expensive action under AB32. The only policy recommendation I made in my speech was to lament the obsession with cap-and-trade and make a plea for a carbon tax. The discussion afterward pretty much made my point for me, with every member lamenting the absurdities that are emerging in the CARB regulation process. Even Mr. Nation admitted that the CARB is setting up programs that are preferentially regulating those with the least political muscle and pushing policies which make no sense in any kind of cost-benefit analysis for fighting CO2. Mr. Nation said that when he was in the legislature, he tried a carbon tax first but could not get it out of committee, even a small one that would have raised gas taxes about 5 cents. It seems politicians have no problem enacting huge taxes (which is what AB32 does) as long as those taxes are not called a tax and are hidden from the view of the general public (at least until prices start to rise and businesses start to exit the state).
I thought Mr. Nation did a perfectly reasonable job, and I agreed with much of what he presented. I differed only, of course, in the amount of past warming I was willing to ascribe to CO2 and the amount of future warming from CO2 that we might expect. However, this was the first time I have ever seen a global warming catastrophist be explicit that CO2 only causes a bit of future warming, and that most is from positive feedbacks multiplying the greenhouse effect. Kudos for him for highlighting this, and this certainly fed into my pitch well.
The one area where I thought he made an explicit factual mistake in his presentation was in evaluating Hansen's forecast to Congress in 1988. He argued that one shouldn't judge Hansen by his "A" scenario (which is WAY off) because Hansen said at the time that this was based on unrealistically high assumptions. But in Hansen's appendix, he says that the A scenario is based on 1.5% a year future growth in CO2 output. In fact, the world has grown CO2 output by 1.75 % a year in the last 20 (source), so in fact the A scenario is, if anything, low. The B and C scenarios should be treated as totally irrelevant. This is a mistake I think Lucia made at the Blackboard, considering B and C at all. These scenarios differ in their CO2 forecasts, not the model parameters, so the scenario closest to actual CO2 output should be chosen and the rest are irrelevant. By the way, here is my chart. As I did with many of my charts, I like to counterpoint the data against media reports (the box in the upper left). This helps later in the discussion when the disconnect people have between what I have said and what they have heard inevitably crops up.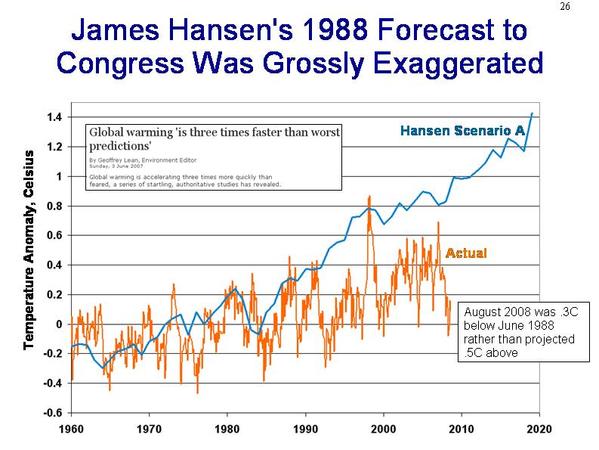 I was pleased that Russ Steele of NC Media Watch was there to say hi and observe the proceedings. Thanks Russ — I enjoy your blog and am sorry that I did not recognize you in my pre-presentation stress.
Update: Russ has a more complete roundup of the discussion
Update 2: The actuals in the chart above are UAH satellite numbers, with the anomaly shifted up about 0.1C to match zero values with the Hansen forecast data.