Apparently a number of papers are "commemorating" today the 20th anniversary of James Hansen's speech before Congress warning of catastrophic man-made global warming. So let's indeed commemorate it. Here is the chart from the appendices of Hansen's speech showing his predictions for man-made global warming: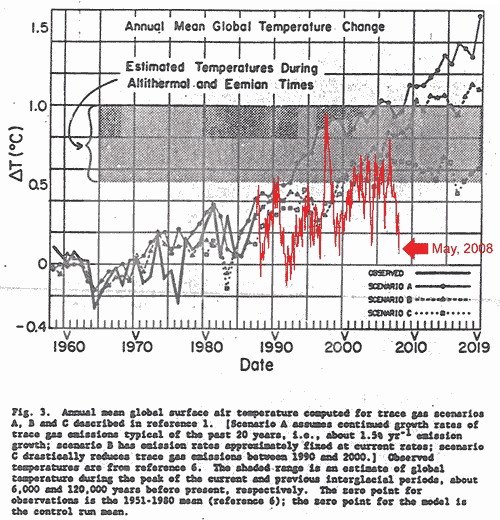 I have helpfully added in red the actual temperature history, as measured by satellite, over the last 20 years (and scale-shifted to match the base anomaly in Hansens graph). Yes, 2008 has been far colder than 1988. We have seen no warming trend in the last 10 years, and temperatures have undershot every one of Hansen's forecasts. He thought the world would be a degree C warmer in 20 years, and it is not. Of course, today, he says the world will warm a degree in the next 20 years — the apocalypse never goes away, it just recesses into the future.
This may explain why Hansen's GISS surface temperature measurements are so much higher than everyone else's, and keep getting artificially adjusted upwards: Hansen put himself way out on a limb, and now is using the resources of the GISS to try to create warming in the metrics where none exist to validate his forecasts of Apocalypse.
By the way, if you want more insight into the "science" led by James Hansen, check out this post from Steve McIntyre on his trying to independently reproduce the GISS temperature aggregation methodology.
Here are some more notes and scripts in which I've made considerable progress on GISS Step 2. As noted on many occasions, the code is a demented mess – you'd never know that NASA actually has software policies (e.g. here or here . I guess that Hansen and associates regard themselves as being above the law. At this point, I haven't even begum to approach analysis of whether the code accomplishes its underlying objective. There are innumerable decoding issues – John Goetz, an experienced programmer, compared it to descending into the hell described in a Stephen King novel. I compared it to the meaningless toy in the PPM children's song – it goes zip when it moves, bop when it stops and whirr when it's standing still. The endless machinations with binary files may have been necessary with Commodore 64s, but are totally pointless in 2008.

Because of the hapless programming, it takes a long time and considerable patience to figure out what happens when you press any particular button. The frustrating thing is that none of the operations are particularly complicated.
Hansen, despite being paid by US Taxpayers and despite all regulations on government science, refused for years to even release this code for inspection by outsiders and to this day resists helping anyone trying to reproduce his mysterious methodologies.
Which in some ways is all irrelevent anyway, since surface temperature measurement is flawed for so many reasons (location biases, urban heat islands, historical discontinuities, incomplete coverage) that satellite temperature measurement makes far more sense, which is why I used it above. Of course, there is one person who fights hard against use of this satellite methodology. Ironically, this person fighting use of space technology is … James Hansen, of the Goddard Institute for Space Studies of NASA! In our next episode, the head of the FCC will be actively fighting for using the telegraph over radio and TV.